Who Delayed Roger Rabbit?
Why there has been no sequel to one of the most popular animated films of the 1980s
By Rich Drees
One would think that if a film pulls in over $325 million dollars at the worldwide box office, a sequel would be quickly put into production. But in Hollywood, the only thing that can overcome studio greed is ego. And in the case of 1989's Who Framed Roger Rabbit it was a clash between some of the biggest names in Hollywood - Steven Spielberg and Disney studio head Michael Eisner - that squashed any hope of further feature length adventures of the loony `toon.
To fully understand how such an impasse came about, we have to go all the way back to the beginning of the first Roger Rabbit film.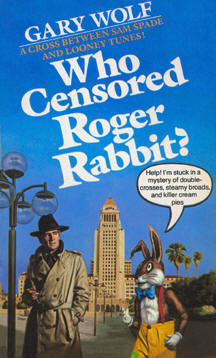 It is 1980 and then-Disney studio head Ron Miller is given galley-proofs for the soon to be released Gary Wolf novel Who Censored Roger Rabbit?, a surreal and satirical take on crime noir novels that featured tough guy detective Eddie Valiant trying to solve the murder of comic strip star Roger Rabbit. Miller saw possibilities in the novel and, over the objections of Disney CEO Card Walker, paid $25,000 for the film rights to the book.
Miller passed to project onto Mark Sturdivant, a young Disney production executive, for development. Sturdivant assigned scripting details to Jeffrey Price and Peter Seaman, two former advertising copywriters, while Disney animator Darrell Van Citters began work on designing the various characters.
Price and Seaman would go through ten drafts of the script, eventually junking most of Wolf's original plot, which owed much to pornography/blackmail storyline of Raymond Chandler's The Big Sleep. What they did do was change Roger and his companions from actors who posed for the photos that would become comic strips to cartoon actors and setting the story in 1947 at the height of animation's Golden Age. This change of setting would allow the screenwriters to go all out with the concept of cartoon characters existing in the real world and feature cameos from the greatest cartoon stars of the era.
This would also be the biggest stumbling block the production would have to get around.
Sturdivant approached Warner Brothers, Paramount and Universal Studios about loaning out some of their characters to appear in the film, but was turned down by every one. Nevertheless, Miller had Sturdivant and Citters shoot some footage of a live action actor and had it combined with combined with pencil test animation to see if they could convincingly combine a cartoon rabbit into real world surroundings. This footage even aired on the Disney Channel's Disney Studios Showcase in April 1983.
Combining live action and animation wasn't necessarily a new idea. As far back as 1923, the Fleischer Studio had their Out of the Inkwell series that featured the animated Koko The Clown wandering off of animator Max Fleischer's drawing pad out into the real world. Gene Kelly had danced with Jerry Mouse in 1944's Anchors Away. Disney itself had put out several pictures that combined the two including Song of the South (1946), Mary Poppins (1964), Bedknobs and Broomsticks (1971) and Pete's Dragon (1977). But never had such a project demanded such a high level of interaction between real life characters and their animated counterparts.
Anxious to get a director signed on board the project, Miller sent copies of the test footage and the script to Steven Spielberg, Joe Dante and Robert Zemeckis. Although Miller had promised a budget of $25 million dollars, all three passed on the project. (Remember, at this time Disney was not the powerhouse that it would be just a few years later.) In spite of this set back, Miller continued to press forward on the project, instructing Citters to start looking for vocal talent for the film. Citter's eventual choice to voice Roger was a then-unknown member of the Los Angeles improv comedy group "The Groundlings" by the name of Paul "Pee Wee Herman" Reubens.
Unfortunately, while Miller believed in Roger Rabbit, the Disney Corporation didn't believe in him and he was ousted in September 1984, leaving Who Framed Roger Rabbit in limbo.
A year and a half later and relatively new Disney head honcho Michael Eisner has started to turn the troubled studio around with the modest success of the films Down and Out In Beverly Hills and Ruthless People. Now, Eisner and Disney Studio head Jeffrey Katzenberg were looking for a film that would take that success one step further. They wanted a blockbuster.
And that's when Katzenberg discovered the script for Who Framed Roger Rabbit.