Italian Silent Classic Cabiria Restored
By Rich Drees
March 23, 2006- A restored version of the 1914 silent Roman Empire epic Cabiria had its world premier this past Monday in Turin, Italy at Turin's Royal Theatre and will screen at the Cannes Film Festival this coming May. The film's presentation was accompanied by the theatre's Filarmonica 900 orchestra, performing the film's original score.
Directed by Giovanni Pastrone, Cabiria is considered the greatest Italian silent film. Loosely based on Gustave Flaubert's novel Salambo, the film is set during the Second Punic War (218 to 202 BC) and tells the story of the conflict through the eyes of a young Roman girl, played by Lidia Quaranta, who is kidnapped by pirates and sold into slavery in Carthage. She is later rescued from being sacrificed to the god Moloch by a Roman nobleman (Umberto Mozzato) and his muscular slave Maciste (Bartolomeo Pagano). The film's screenplay and inter-title cards were written by Italian author Gabriele d'Annunzio.
Until now, Cabiria had only existed in a two hour long form. However, footage recently discovered in a basement in Turin has allowed the film to be restored to a run time of 190 minutes, such 5% short of its original length. The restoration work was done by technicians and historians at Italy's National Cinema Museum in collaboration with Prestech Film Laboratories in London, England working from a variety of sources including Pastrone's detailed notes and storyboards, the film's original script, original camera negative cut-offs, press reports of the time and other recently acquired documentation.
Originally released in April 1914, Cabiria was distributed around the world and made a matinee idol out of the former Genoese stevedore Pagano. Pagano would make a career of portraying the character through 25 more movies into the 1920s, while the character itself would appear in numerous Italian "sword and sandal" adventure films of the 1950s and '60s.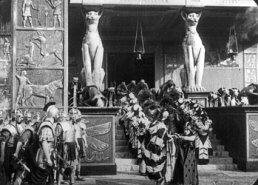 Capiria's ornate sets and costumes inspired many silent epics that followed.
In addition to its worldwide popularity, Cabiria is recognized for its influence on other great silent filmmakers of the day and has been compared favorably to D. W. Griffith's Birth Of A Nation (1915) in terms of the scope of its story. The film contains several impressive tracking shots- a technique that Pastrone is given credit for inventing. Cabiria is also noted for its extensive location footage, lavish sets and costuming and innovative special effects. The "Babylonian" sequences of Griffith's Intolerance (1916) are believed to be inspired by the film. Director Fritz Lang's decision to use an idol identified as Moloch in a dream sequence in his classic Metropolis (1927) was probably partly informed by the fact that audiences would be familiar with the image from Cabiria. The film was also the first motion picture to be screened on the grounds of the White House.
Prefaced with a video introduction from film director Martin Scorsese - who describes the film as "just as remarkable today as it was when it was seen for the first time, 93 years ago" - the new version of Cabiria will tour the world following its Cannes Festival screening.
"We are going to take this amazing original around the world, starting with Cannes," states Alberto Barbera, the head of the film museum.
The film was remade in 1931, with Pastrone serving as producer. A restored print of this version will tour and screen with the 1914 version.