Not many romantic comedies open with a scene set just after a funeral. But Catch And Release, for better or worse, strives not to be an ordinary romantic comedy. In fact, for most the first part of its runtime, it plays as an anti-romantic-comedy in some respects, where the main character spends more time falling out of love rather than into it.
Days before her wedding, Gray Wheeler's (Jennifer Garner) life is torn apart when her fiancée is killed in an accident on his bachelor party weekend. The film opens with the open house after his funeral, Gray struggling to maintain her composure even when the bakery inadvertently delivers a no-longer-needed wedding cake. Helping her to get past this tragedy is her fiancée's two friends- Sam (writer/director Kevin Smith making a rare appearance outside of his own films) and Dennis (Sam Jaeger). Gray soon discovers that her fiancée had a bank account that she did not know about. But, as she learns from Fritz, another old friend of her fiancée's (Timothy Olyphant), that's the least of the secrets he was keeping from her.
The first half of the film plays fast and loose with the standard romantic comedy conventions, managing to wring some laughs out of the standard situations. When Gray seeks a moment's solace in the bathroom from visiting well-wishers after the funeral, she inadvertently overhears Fritz having sex with some young lady. The audacity and absurdity of the situation almost cause her to let out an eavesdropping-revealing laugh. The film also manages to wring some laughs from people's inept attempts to offer Gray sympathy. After the funeral, Gray moves into the house that her fiancée had shared with Sam and Dennis and the three form a friendship, with the actors generating a chemistry that is delightful to watch.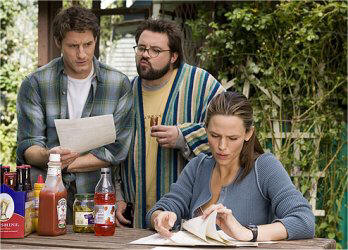 But the film wants to have its cake and eat it too. Not content with just exploring Gray's life and how she rebuilds herself as a person and not as part of a couple, screenwriter/director Susannah Grant embraces the standard conventions of romantic comedies as the second half of the film unspools. Gray discovers that Fritz is quite the boorish jerk her originally appeared to be and, after several well familiar story beats later, the last minutes of the film leave no doubt that before the end credits roll you know that Gray and Fritz will be in a clinch.
But no matter what twists are attempted with the formula, the strength of any romantic comedy is based upon the performances more so than the script. Garner does a nice job with subtly showing us Gray's transition from grief back to a normal life, while Olyphant manages to not make his character's early appearances in the film too grating, which helps sell the fact that Gray would fall in love with him later. Smith is entertaining, playing a version of himself familiar to those who have seen his college lectures or numerous talk show appearances.