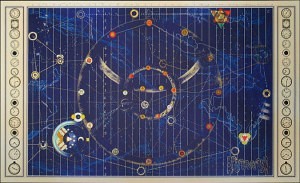 Geek Gear- Something so absolutely geeky you have no choice but to acquire one as quickly as possible.
So you're being drug across history by a group of little people who turn out to be the most inept thieves in time and space. How do you find your way back home? With this trusty replica of the maps used in the Terry Gilliam's fantasy Time Bandits.
As explained its creator, the map is recreated after studying the film in detail. In the course of the recreation, he found some inconsistencies between the props used in the film and the map featured in the closing credits. The map featured in the film only had clocks down its left side, while the credits sequence prop had clocks on both sides. The map is printed on a 40 by 24.5 inch piece of canvas and is suitable for framing.
You can get your own Time Bandits map here. Please time travel responsibly.