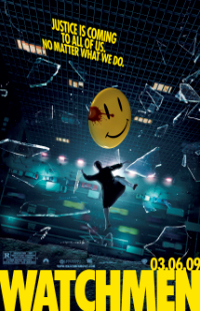 It looks as if our long national (geek) nightmare is over!
According to the Hollywood Reporter, talks between Twentieth Century Fox and Warner Brothers Studios have proven fruitful and they have reached an agreement over the contested distribution rights for the Watchmen film.
Terms of the agreement will not be disclosed, but it is said to involve a sizable cash payment to Fox and a percentage of the film's boxoffice. Fox will not be a co-distributor on the film, nor will it own a piece of the "Watchmen" property going forward. The studios are set to release a joint statement announcing the agreement Friday.

A Warners spokesperson would not comment on the settlement. A Fox spokesman said no final deal had been reached.
Earlier today, we gave you a round up of the recent legal troubles that the film has gone through in the few remaining weeks before its scheduled release on March 6. Writer William Gatevackes even suggested that this conflict would end in a settlement. Ultimately, Hollywood is a business, and Fox just wanted their piece of the pie. That makes another party with whom Warners will have to share profits from the film, in addition to overseas distributor Paramount and the film's co-financer Legendary Pictures. There's going to be a lot of scrutiny of Warner's books in the future. And I wouldn't be surprised if a trip back to the courtroom were to take place sometime in the future.