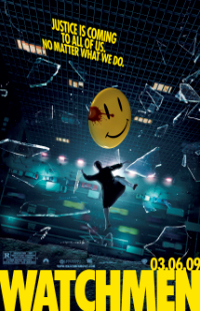 Fans of movie soundtracks who are also looking forward to Zack Snyder's epic comic book adaptation Watchmen have a double treat in store for them on February 24 as Warner Music will be releasing two albums of music from the film- a soundtrack album featuring songs from the film and a second disc featuring music from the film's original score composed by Tyler Bates.
(The original press release and the albums' Amazon listings give a March 3 release date, but the soundtracks' website gives the February date, so we're going with that for the time being.)
Additionally, Warners is releasing the "Watchmen Music Collectors Edition 7″ Box Set" on March 24. The set will be comprised of 7 vinyl picture discs with images of the Watchmen characters from both the film and the graphic novel. The music in the set will be comprised of 13 tracks from the score album and My Chemical Romance's "Desolation Row" from the soundtrack album.
Although I probably won't pick them up myself, I like that Warners is releasing the picture disc set. Picture discs, a record with a picture emblazoned on it instead of the traditional black vinyl, are very much an artifact of the 1980s. Artists would release them as limited collector's edition, often with a remix of a hit song or a tune that didn't make it on to an album as a bonus track. (I know I have a few from Talking Heads and a few other groups packed away somewhere.)
If Warners continues this pattern of recalling the 1980s with their merchandising, I firmly expect to see a home video release of Watchmen on Betamax and laserdisc.
If you are interested in hearing a sneak preview of what Bates has composed for the film, head over to the soundtrack's website for a sample.
Both the Watchmen Soundtrack
and the Watchmen-Original Motion Picture Score
are available for pre-order at Amazon.
The track lists for both albums are after the break
Music From The Motion Picture Watchmen
1. Desolation Row – My Chemical Romance
2. Unforgettable – Nat King Cole
3. The Times They Are A-Changin' – Bob Dylan
4. The Sound Of Silence – Simon & Garfunkel
5. Me & Bobby McGee – Janis Joplin
6. I'm Your Boogie Man – KC & The Sunshine Band
7. You're My Thrill – Billie Holiday
8. Pruit Igoe & Prophecies – The Philip Glass Ensemble
9. Hallelujah – Leonard Cohen
10. All Along The Watchtower – Jimi Hendrix
11. Ride of the Valkyries – Budapest Symphony Orchestra
12. Pirate Jenny – Nina Simone*
* – used in the end credits of the "Tales From The Black Freighter" DVD
Watchmen Original Motion Picture Score
1. Rescue Mission
2. Don't Get Too Misty Eyed
3. Tonight The Comedian Died
4. Silk Spectre
5. We'll Live Longer
6. You Quit!
7. Only Two Names Remain
8. The American Dream
9. Edward Blake – The Comedian
10. The Last Laugh
11. Prison Fight
12. Just Look Around You
13. Dan's Apocalyptic Dream
14. Who Murdered Hollis Mason?
15. What About Janie Slater?
16. I'll Tell You About Rorschach
17. Countdown
18. It Was Me
19. All That Is Good
20. Requiem (Excerpted from Mozart's Requiem)
21. I Love You Mom