Starlog Magazine is dead.
The long time mainstay of media genre reportage, Starlog magazine announcedlate last week that it was ceasing its print publication to concentrate on being just an online news source. The announcement came as part of a news release that Starlog was relaunching their website.
It is also at this time that we announce the temporary cessation of the current run of STARLOG as a print magazine. After 33 years, and considering the present state of the economy, we feel its time for a major revamp and will be temporarily discontinuing publication while the model and redesign of the magazine are contemplated and executed. The last print issue available for the time being is #374, while issue #375 will be available exclusively as a digital edition on the network in the very near future.
Although unfortunate, it should really come as no big surprise that the magazine is folding its print incarnation.  The twin gut punches of the internet and the current economic crisis have KO'ed numerous newspapers and periodicals already. Many more are paring back their newsrooms, letting reporters go and refocusing their remaining staff to lower cost online efforts. Although Starlog had continued to carry more in-depth coverage of films than any online site, the immediacy of the web has long since undercut the magazine as a primary source of news for genre fans. Times have certainly changed since the magazine's early days when it was the first non-industry trade publication to report on a little film that George Lucas was working on called Star Wars.
Although I have given up reading Starlogon anything close to a regular basis years ago, I am still a little sorry to see the print edition disappear. Much like a young generation of future filmmakers and film fans grew up on Forrest J. Ackerman's Famous Monsters of Filmland, I'd like to think that a subsequent generation did the same with Starlog. I know it was a steady part of my literary diet for the better part of ten years- from junior high all the way through college. It was the 1980s and it was a golden time for genre cinema. The Star Wars, Indiana Jones and Star Trek franchises were in high gear. Freddy, Jason and Michael Myers were all stalking their victims. James Cameron hammered out three classics- Terminator, Aliens and The Abyss – and John Carpenter graced us with The Fog, Escape From New York, The Thing, Christine, Starman, Big Trouble In Little China and They Live. It was the decade that gave us Dune, Repo Man, Gremlins, Goonies, Explorers, Monster Squad, Return To Oz, Tim Burton's Batman, Little Shop Of Horrors, Who Framed Roger Rabbit?, Labyrinth, The Dark Crystal, Ladyhawke, Highlander, The Bride and many others.
And Starlog covered everyone of them with the dedication and professionalism that Time or Newsweekwould devote to politics or the economy. Although other magazines would try, I really don't think that any of them came close to matching what Starlog delivered. (Sci-Fi Universe would come the closest in the mid-90s, but only for its first few years of publication before its fiery and irreverent style started to get watered down following it being sold to some big media company.)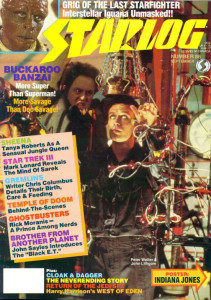 It was in the pages of Starlog #86 that I would discover what would go on to be one of all time favorite films. That issues cover blurbed that Buckaroo Banzai was "More Savage Than Doc Savage!" Well, as a teen just going in the summer between his freshman and sophomore year of high school who was just discovering pulp hero Doc Savage via a large stack of his 1970s reprinted adventures on a shelf in a musty second-hand bookstore, these were intriguing words to say the least. The story inside was one of the first of several features that Starlog would run up to the film's release that fall, but I was hooked from that first article and couldn't wait for the film to hit the local multiplex. When it di, I was there that first Saturday afternoon. Next to me was Sheri- my first girlfriend and we were on our first date. Although my romance with Sheri sadly went the way of a majority of high school romances, my love for The Adventures Of Buckaroo Banzai: Across The 8th Dimension never did. And it was that love for the movie that got me writing; first some fiction for a few fanzines, though that would ultimately lead me to investigate journalism as a possible carreer choice. How many others out there have had the course of their lives in some way directly or indirectly determined by what they read between Starlog's covers? 
Starlog Magazine is dead. Long Live Starlog!