It's another year at Hogwarts School of Witchcraft and Wizardry and another set of troubles for wizard-in-training Harry Potter (Daniel Radcliffe) and his friends. And as this new cinematic installment is based on the penultimate book in the popular series of young adult novels, plot lines that have been simmering for the previous five films are finally beginning to boil.
The evil Lord Voldermort has increased his attacks on the magical world of wizards and witches that co-exists with our own to a point where the conflict is spilling out into the mundane world. As befitting these times, Hogwarts itself is a darker place. Its previously brightly lit hallways are now full of shadows, convenient for the amount of skulking that many characters engage in. The addition of a new teacher – Jim Broadbent joining the parade of fine British character actors appearing in the series – is merely a ploy by headmaster Dumbledore (Michael Gambon) to have Harry investigate his past connection with Tom Riddle, the Hogwarts student who would grow up to become Voldermort. Meanwhile, other plots are at work in the halls of Hogwarts, ones that do note bode well for Harry and his friends.
Director David Yates continues to show a learning curve, with this, his third Potter film. His attempt at wrestling J. K. Rowling's sprawling novel into a workable cinematic structure mostly succeeds. The infrequent action set pieces are well-staged and the acts of magic continue to be imaginatively released. However, there are a few moments that feel as if they were included only to placate fans, but add nothing to the plot. Some characters seem to make perfunctory appearances if only to keep them in the audience's mind before they return for the franchise's two-part finale starting next year.
The film's pacing, especially in its middle third, is still problematic and choppy, though. But this is a difficulty that has plagued all the Harry Potter films. As the stories are spread across the character's school year, the film will often jump ahead several weeks to the next plot point. However, a side effect of this is that some character relationships seem fragmented. In one scene we see Harry's friend Ron (Rupert Grint) becoming upset when he spies his younger sister Ginny kissing another student. In the very next scene, presumably several weeks later, we're informed through some clumsy exposition that Ginny has just broken up with her paramour.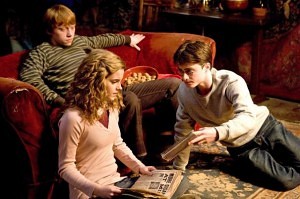 As Harry and his friends are moving through their teens, it is only fitting that hormones have started to inject themselves into the mix. Harry is finding himself drawn to Ginny (Bonnie Wright) and understandably feeling awkward about an attraction to his friend's sister. Ron is oblivious to Harry's plight, as he is at first thrilled, but quickly tired of, the amorous attention he receives from fellow student Lavender. Meanwhile, Harry's other best friend Hermione (Emma Watson) is discovering that her feelings of friendship with Ron are blossoming into something more. By now, it has become a standard plot point to have a wedge temporarily driven between Harry, Ron and Hermione. The romantic complications that do that in this film feel a bit more natural at splitting up the triumvirate than the manufactured contrempts in previous installments have been.
Despite much of the proactive action he takes in most of the film, Harry's character comes off as inconsistent. While he is not so much at the mercy of the happenings around him as he has been in previous films, Harry remains maddeningly passive during the climax. Granted, this is on the orders of his mentor Dumbledore, but his sidelining diminishes the sequence. Additionally, seeing Harry express amazement at feats of magic that should be commonplace only serve to undermine him in the eyes of the audience. We're used to this world now, why isn't he yet?