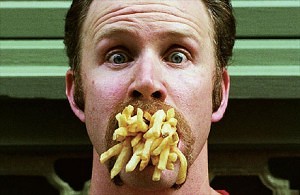 So great an powerful is the San Diego Comic Con that projects are announced even before the convention officially begins.
The Hollywood Reporter is announcing that documentary filmmaker Morgan Spurlock has agreed to partner with Dark Horse Comics to create a graphic novel based on stories inspired by his 2004 documentary, Super-Size Me.
The graphic novel, titled Supersized: Strange Tales From a Fast Food Culture, will feature fast food related tales told to Spurlock by fans of his movie, including an obese man who smelled of french fries when he was cremated and a home museum of never aging McDonalds food.
Dark Horse Comics is the company that published The Mask, which was made into a film starring Jim Carrey, and Hellboy, which spawned a successful film franchise.
No release date is offered for the graphic novel.