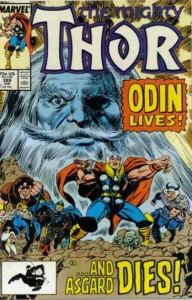 Months of speculation amongst comic book fans is now over as Marvel Studios has announced that Academy Award-winning actor Anthony Hopkins has been cast as Odin, King of Asgard and father of superhero/God of Thunder Thor, in Marvel Studios upcoming film adaptation of the comic of the same name.
It is Odin who banishes Thor to Earth to learn humility and where the God of Thunder becomes a superhero to the people of the modern world. The Thor film will share continuity with the Robert Downey, Jr. Iron Man films, the recent Incredible Hulk and the upcoming Captain America and Avengers comic book adaptations, making it possible for characters who have appeared in these films to possible show up in Thor.
Hopkins's casting marks perhaps the last major role needing to be filled for the movie, which starts production in January. Star Trek's Chris Hemsworth is playing Thor, with Tom Hiddelston as his brother and nemesis, Loki, and Natalie Portman playing Thor's love interest, Jane Foster.
I have to admit that I'm a little disappointed that the rumor from back at the beginning of summer that Brian Blessid was going to play Odin won't be panning out. I thought he had an incredible charisma and robustness needed to play the king of the Norse gods. Hopkins's casting suggests a more quiet, thoughtful and cunning interpretation of the character.
Now that we've got a cast, let's see some costumes!
Via Variety.