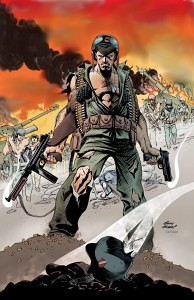 Here's one from the "They just don't get it, do they?" file.
The Hollywood Reporter's Heat Vision blog has broken the story that producer Joel Silver's two-decades in the gestation adaptation of DC Comics' classic World War Two comic character Sgt. Rock has hired yet another writer for the project who is taking a rather radical approach to the material- He intends to move the war time adventures of Rock and the men of Easy Company from the trenches of war torn Europe to the future.
Producer Joel Silver has hired Chad St. John to write this new take on the material based on the strength of his unproduced spec script The Days Before. St. John has also written the remake of Outland that is currently still in development. Previously Brian Helgeland, John Milius, David Peoples, Jeffrey Boam, Steven De Souza, John Cox and Danny Bilson and Paul De Meo have all tried their hands at scripting the film.
Sgt. Rock first appeared in a 1959 issue of DC's war anthology series Our Army At War, becoming so popular that the book was simply renamed Sgt. Rock in 1977. The series published its last issue in 1988 and according to DC continuity, Rock died on the last day of World War Two from the last bullet fired in the conflict.
One of the reasons given for this rather stupid move is the anticipated high cost of a full-tilt, World War Two would be too pr0hibited. But a movie set in the future with all the needed special effects needed to realize that world would somehow cost less? I'm sorry, but that just doesn't seem to make much sense. Take a look at what some people are reporting as the budget for James Cameron's sci-fi war film Avatar. Even if those numbers are inflated, and they probably are, are you still trying to tell me that it would be cheaper than a proper World War Two era film?
The Reporter article also states that World War Two films have been out of vogue in Hollywood for a while, but as we know, that kind of thinking is fairly short-sighted. Instead of trying to cash in on the latest hot thing, they should be looking for the next hot thing. If no one is doing a World War Two movie, perhaps doing an amazing, action-packed war film will give ticket buyers an exciting alternative to the same-old same-old that is usually available at the local cineplex.
But when you boil it down, I think that there is just one word that can be  uttered in the face of a movie that takes a character and then proceeds to strip them of all their identifying features and place them into a new context- Catwoman.