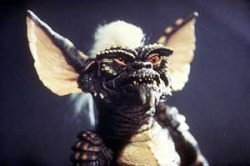 If there is one craze in Hollywood right now that has surpassed reviving old franchises, it is burning desire to film every new feature in 3D. Now, according to a report from MarketSaw, it looks like we'll get a collision if those two schools of thought with a possible return of Joe Dante's `80s classic Gremlins to the big screen.
The report is remarkably vague, just that a new Gremlins movie is coming soon and it will be in 3D. That's it. Nothing about a screenwriter or director being attached to the project or if it will be a retread of the first film or a new installment. Honestly, at this point it could have been two low-level development execs sitting around at lunch spitballing movies that might look good in 3D.
One thing for sure is that the director of the first two films, Joe Dante, won't be back. He is too busy with his ongoing series of motion capture, computer animated features to want to return to live action. Also, in the past, Dante has said that the charm of the two Gremlins films has been the use of puppetry and animatronics to bring the title creatures to life. I can't imagine a studio exec going for such an approach today.