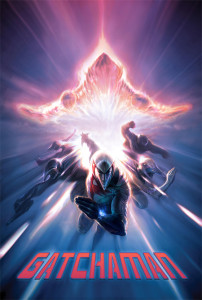 Last week, Imagi Studios, the CGI animation group behind the recent Astro Boy big screen adventure, was closed by its owner, Hong Kong-based Imagi International Holdings Ltd. Over 300 employees are now out of work due to the closure. The studio had been hemorrhaging money and had seen the shuttering of its US studio in Los Angeles last month.
What is unknown at this time is the fate of the studios currently in production feature Gatchman, based on the 1980s anime TV series syndicated in the US as Battle Of The Planets.  Imagi did state that would continue to develop ideas for films, but outsource the actual animation production to more cost-effective (i.e., cheaper) studios in China and other countries. However, the Gatchaman project was not mentioned by name, leaving its fate up in the air. It seems to me, though, that Imagi International Holdings' vow to keep developing film ideas sounds more like something to appease stockholders. I have little hope that we will actually see Gatchaman ever be completed.
Imagi's first release, 2007's TMNT, featuring the popular Teenage Mutant Ninja Turtles comics and cartoon characters, pulled in a respectable $95.6 million at the worldwide box office. However, last year's Astro Boy tanked and tanked hard with only $23 million in worldwide ticket sales.
Although Imagi hasn't officially released any footage from Gatchaman, they did have a teaser on display at last year's Anime Expo, which some nice people have captured and placed on YouTube for the rest of us to look at and speculate over how the movie may have turned out.
It looks like Imagi was developing a Tetsujin 28/ Gigantor film as well-
Via Associated Press.