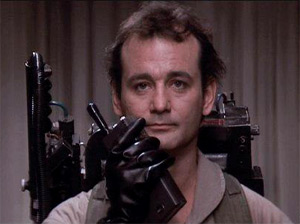 So Bill Murray appeared on last night's Late Night With David Lettermen and the subject of a possible Ghostbusters III came up.
Murray dished out pretty much the same quote he gave last month to London's Daily Mail. You can watch the embedded clip below for the highlights from the interview.
However, I think we should take note of Murray's tone in the interview. He doesn't seem very convinced that the film will ever actually happen, and says so outright. Is Murray just doubtful, given the length of time it has been since Ghostbusters II and having seen so much talk and very little action on a third film in that intervening time? Is he just not enthused with the idea of returning to do a third film, despite what he has to say about his experience recording dialogue for the recent Ghostbusters video game?
I have a feeling that, if push comes to shove and the film gets a greenlight, Murray may just find himself enjoying the process more than he indicates that he would here.