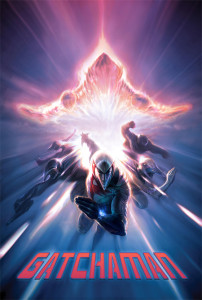 When animation house Imagi Studios shut its US studios' doors back in February, we were left wondering what the fate of their in production adaptation of the 80s anime series Battle Of The Planets, Gatchaman, would be.
Well, we still don't know what is going to happen with the film, Twitch was able to dig up a 2007 trailer that the studio put together to promote the film to possible distributors and exhibitors at the HK Filmart. At that point in the film's production, Kevin Munroe, the director of Imagi's Teenage Mutant Ninja Turtles film TMNT, and writer Paul Dini were spearheading things before leaving due to the ubiquitous creative differences. If you compare the design work here, you'll notice that it looks a little different from promotional material released later on, so this is probably not too representational of what the final film was going to look like.
While this clip of action is certainly better than any of the bits of Imagi's Astro Boy that I have seen, the trailer still doesn't excite me all that much. The generic music, which would have undoubtedly been replaced once things progressed to the point where a composer would have been brought in to score the final film, certainly doesn't help.
While I am sure that there are some fans out there who are still hoping that Imagi will figure out its money's woes and get the film completed, I doubt that that will be happening any time soon, if it all. I think this is the last look at a film that died before it could even reach theaters.