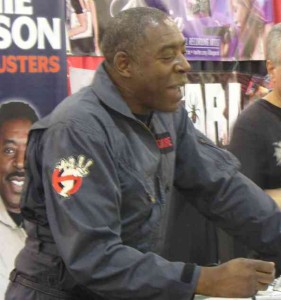 There's been a lot of talk about a third Ghostbusters film. Director Ivan Reitman and stars Dan Aykroyd and Harold Ramis are certainly all fired up to make a return to the Tribecca firehouse of the world's most famous paranormal exterminators. But star Bill Murray seems to be running either hot or cold on the concept, depending it seems on what day it happens to be.
One Ghostbuster who really hasn't been heard from in all this, is Ernie Hudson, who played the man who'll believe in anything if there's a steady paycheck involved who is hired by the Ghostbusters once their business becomes a success. We caught up to Hudson at the Philadelphia Wizard World convention this weekend for a quick chat about what he's heard concerning Ghostbusters 3.
Well, I've talked to everyone, all of the guys – Bill, Danny, Harold, Ivan Reitman. And I know everybody wants to do it. The problem is, getting everybody to agree on what should be done. They're working on a script, but getting them all to agree on a script is – you know. If that happens, we'll actually shoot it.
Of course, the key words here are "getting them all to agree on a script" and it has always seem that Bill Murray might be the wild card in obtaining that agreement. That's something that Hudson
Bill's always wanted to do it. He just wants to do it if its something that's good. But now, defining what's good to Bill Murray is a different story. That's the problem. And if Bill Murray's good is not the same as Danny Aykroyd's and Ivan Reitman's good… That's a problem.
Well, that's the problem for The Office scribes Lee Eisenberg and Gene Stupnitsky to solve as they continue to work on the screenplay.