Who will be the next Marvel character to hit the big screen? Which one will be the first to be produced under Marvel's partnership with Disney? It looks like it will be Doctor Strange.
Deadline: New York is reporting that the writers of the Conan revamp, Thomas Donnelly and Joshua Oppenheimer, have been hired to develop the good doctor for the big screen. The pair also wrote a draft of another comic book adaptation, Cowboys and Aliens.
Dr. Strange is Stephen Strange, once an egotistical, high-profile surgeon whose practice was ruined when his hands were injured in a car accident. Losing the one thing that made him special, Strange descends a spiral of self-destruction. As a last ditch effort, he travels to a remote Himalayan village to visit a mystic to get his life back. The mystic instead train Strange to take his place as the world's sorcerer supreme.
Of all the thousands of untapped Marvel characters, I always believed that Dr. Strange would be the best fit for the silver screen. Not only due to his origin, which I think is very interesting and cinematic in its own right, but his adventures can lead to so many different interpretations. They can be in horror–either psychological of "jump out and grab you"–or a trippy, psychedelic mind warp of a film like The Imaginarium of Dr. Parnassus or Tim Burton's Alice in Wonderland. But the property would be best served as some combination of all the above.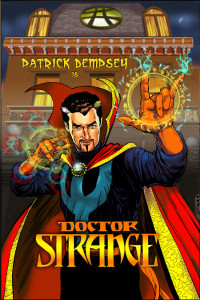 But who should play the doctor? Well, according to Bleeding Cool.com, Patrick Dempsey supposedly is interested in the role. The image to the right was created by Hollywood-based comic artist Arne Starr and presumably has been shown to Marvel execs to sell them on Dempsey as Doctor Strange.
Dempsey does have a relationship with Disney, having starred in their recent hit Enchanted, so his casting might not be that absurd if Disney takes a hands-on approach to Marvel's film offerings. However, if I was the one casting, I'd go with another TV doctor. I think House's Hugh Laurie would be an excellent choice for the role. He is more of a physical match for the character and can definitely play that kind of role.
And where would Dr. Strange fit in with the Iron Man/Thor/Captain America: The First Avenger/Avengers shared universe thing? Well, he probably wouldn't. Not that he couldn't–those films are distributed by Paramount but controlled by Marvel so it's assumed they will come over to Disney after their distribution agreement is finished. But Dr. Strange, until recently, was never a big part of the Avengers mythos in the comics. So, the best I'd think we could hope for would be a passing reference, if that.