Be it coincidence or homage or the outright hope that they don't get caught aping someone else's movie, filmmakers have been replicating the work of those who have gone before them for some time now. Every now and then we like to stop and point out one of those instances.
Can a director swipe from themselves? Sure, they do it all the time and it is usually passed off as "directorial style" or as a trademark of some sort. But sometimes a director can copy something they did in an early film for a later one, and it has a deeper meaning within both. Such is the case with Ivan Reitman and scenes from his comedies Ghostbusters and Dave.
Through the 1980s and early 90s, Reitman was one of Hollywood's kings of comedy both as a director and producer with Stripes, Twins, Kindergarten Cop, Dave and Ghostbusters to his credit. There was little that he could do wrong. (Though some would argue the point with Ghostbusters II.)
If one could find a theme to his films, it would be that of the loveable underdog rising up to make or inspire changes in the world around them. In Ghostbusters, it's a trio of dog-eared and discredited academics starting a business and saving the world. In Dave, an average joe whose idealism in the United States hasn't been soured by participation in the political process is called upon to impersonate the President and manages to avoid being manipulated by the real President's staff long enough to get the ball rolling on legislation that would help numerous unemployed.
Interestingly, Reitman chose to stage the scenes where both films' heroes take their first steps of their journey – announced by Bill Murray's "Anybody seen a ghost?" and Kevin Klien's spontaneous "God bless you! God bless America!" – at almost the exact same real world location, the entrance lobby to the Los Angeles Biltmore Hotel.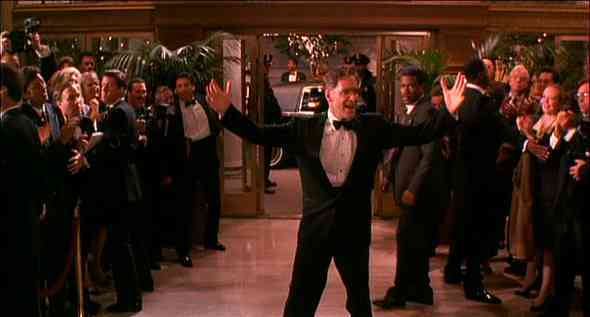 Like Reitman, the Biltmore had a pretty good film career in the 80s, appearing in films like  Rocky III, The Adventures Of Buckaroo Banzai: Across The Eighth Dimension, Beverly Hills Cop, Splash and Pretty In Pink. Built in 1923, its use as a film location goes as far back as Hitchcock's 1958 thriller Vertigo and extends all the way to 2009's The Soloist. For Ghostbusters it was the swanky fictional Manhattan "Sedgwick Hotel." For Dave, it magically transports itself to Washington DC to appear as "The Monaco." As you can see from the views of each scene, it appears that either they dressed the location a little differently for Dave or the hotel had gone through some renovations in the intervening time. However, in the wide shot (above) of Klein walking towards the door before turning back to the face the camera zooming in on him (below), you can definitely see some of the same architectural detail visible
But I don't think that Reitman's use of the location in both films was to draw a parallel between the two. On the Ghostbusters DVD commentary track he mentions that he liked filming there for Ghostbusters that he went back for Dave. At best, if there is any connection beyond that, it has its origins in Reitman's subconscious. But that doesn't make it any less of a swipe.