With the final match of the World Cup soccer tournament playing out today, we thought we'd take a look at some of our favorite movies featuring the sport.
Bend It Like Beckham (2002) – One thing that makes for potent drama or comedy is the clash of cultures, how one group of people reacts to ways different from their own. At the surface, that's what the British dramedy Bend It Like Beckham appears to be.
Jess Bhamra (Parminder Nagra) is a young British girl who wants nothing more to pursue her dream of playing soccer, like her idol footballer Dave Beckham. Her traditional Indian parents, however, feel that she should be spending her time making herself a good potential wife for a nice young Indian boy like her older sister has. They are particularly upset when Jules (Keira Knightley) recruits Jess to play on a local girl's team. Forbidden from playing, Jess sneaks out to matches behind her parent's backs. However as the team begins to gain attention for their winning streak, it becomes harder for her to keep her secret.
While the film seems to be about the clash of British and Indian culture, it's more about the traditional clash between generations. When you scratch the surface, both Jess and Jules' parents are quite similar. Both mothers don't understand their daughters' fascination with soccer and seem to be more concerned with what others will think. Both fathers just want their girls to be happy. Director (and co-screenwriter) Guirinder Chadha  assembled an outstanding cast of young actors for the film. Nagra and Knightley share an easy chemistry on screen, which helps to elevate the one section of the film that feels a little too "Hollywood"- when Jess and Jules's friendship is tested by their mutual attraction to their team's soccer coach (Jonathan Rhys Meyers). – Rich Drees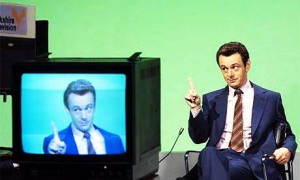 The Damned United (2009) – It is no joke that other countries around the world take their soccer seriously. I won't say that there have never been riots or fights at American sporting events, but when you look at the death tolls from soccer disagreements worldwide, they make America seem positively civilized by comparison. That said, as a complete non-fan of soccer (any sport where you can't use your hands or arms is not much of a sport) and as someone who knows next to nothing about the game's history, it would seem odd that I recommend The Damned United so highly, but I do. While the names Brian Clough, Peter Taylor, Don Revie and Sam Longson may bring forth exciting memories to British soccer fans, they mean nothing to me. But, if there is a film written by Peter Morgan (The Queen, Frost/Nixon) and starring Michael Sheen (Unthinkable, Frost/Nixon), Timothy Spall (Sweeney Todd, the Harry Potter films) and Jim Broadbent (Bullets Over Broadway, Moulin Rouge, the Harry Potter films), I will certainly fork over my nine bucks to see it.
The Damned United follows the true story of Brian Clough (Michael Sheen), who was brought in to manage the Leeds United football club in 1974 replacing the team's beloved manager Don Revie (Colm Meaney). Clough's controversial 44-day stint at Leeds United was full of hubris, jealousy, betrayal, incompetence and was such a condensed human drama that it has spawned novels, plays, countless hours of critical analysis and now a film. Not knowing anything about the real people involved, or how they have been portrayed in the newspapers enabled me to perhaps see the film with fresher eyes than a knowledgeable fan may have. So, while I can't comment on the films historical accuracy, I can say that the dramatic accuracy is spot on.
We meet Brian Clough and learn how he adopted Muhammad Ali's boisterous braggadocio as a personality template much to the chagrin of players and fans alike. We see what a constant headache Clough was to the team owners and how he had little regard for the huge amounts of their money he was spending. But we also learn how effective Clough was. One thread of the story shows us how Clough managed to take his previous team, Derby County, from a national joke to serious first division competitors.
We also see that behind the outrageous public persona of Brian Clough lay the unheralded strategist Peter Taylor (Timothy Spall) who handled the games play books, starting line-ups and the other day-to-day minutiae that make up the running of any professional sports team. And we see how Clough's reckless egomania nearly destroyed this decades long friendship. I wasn't expecting an affecting bromance when I went into see The Damned United and I was pleasantly surprised to find out that the theme of how a friendship can survive through fame, fortune and failure was what The Damned United was really about. The soccer was incidental.
So, even if you know nothing about British soccer leagues, The Damned United works as a powerful well-written drama, full of great acting and unforgettable characters. – Michael McGonigle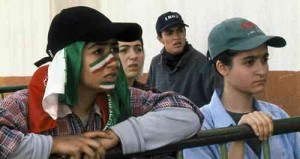 Offside (2006) – Four years has been an awful long wait for the 'beautiful game' to hit fever pitch amongst the nations of the world again. Sadly, this country still has yet to take this game seriously, instead focusing on Tiger's tribulations or Lebron's career moves. Of course, it doesn't help that the US team stumbled and lost early. Nevertheless, when my trusting editor suggested we shine a light on some soccer films, I leapt at the chance. Many soccer movies came to mind, but one really stood out, and oddly enough, there's utterly no soccer action seen in the film. This film, which deserves to be seen by many is Offside, by Iranian director Jafar Panahi.
The film opens with fan-filled buses passing, and the camera focuses on one rider sitting quietly and alone. Two male fans hint that the loud, animated riders on the other bus have definitely seen soccer matches before, but not this quiet rider. They recognize she is a female, but choose not to tell anyone. At the stadium, she persuades a reluctant ticket scalper to sell her a ticket. Glad to have a ticket, she attempts to sneak past stadium security, but is caught and promptly put into a holding cell.
Okay, many of you are likely saying, "Hold on a minute! The girl has a ticket. She doesn't need to sneak past security. She shouldn't be jailed for her eagerness to watch a game." Ah, but, this is Iran. While nearly everyone in Tehran is buzzing with excitement over Iran's chances to enter soccer's greatest tournament, no women are allowed inside the stadium. This is a man's game and women's interest in the game is highly frowned upon. So, the daring girl, along with a handful of others who tried to sneak in, are held in a pen, unable to truly see or hear the mounting action.
The women are guarded by several soldiers, all of whom are just doing their national service but find it increasingly difficult to maintain their stance. It becomes glaringly clear that the soldiers are bothered by the prohibition. The soldiers become bored and express they do not particularly care whether women should be allowed to attend football matches. Little by little, the barriers of social position and gender dissolve and the soldiers volunteer a small commentary on the match to the women.
During the second half of the game, the women are bundled into a bus headed for Vice Squad headquarters and listen to the radio commentary on the match as it concludes. When all of Tehran erupts in celebration, the bus is caught up in a growing traffic jam, and the girls and soldiers filter out into the party. The celebration suggests an odd social chiaroscuro, punctuating how a nation unstable in its wrongly founded Islamic gender principles can be united by a thrilling soccer victory.
Offside is a carefully crafted satire providing fascinating insight into the social hypocrisies so prevalent in modern-day Iran. Panahi shot the film in a very personal manner, using a modest $2500 budget and non-professional actors, and therefore doesn't create an uncomfortable barrier between the movie and his audience. Instead, Offside's realistic, documentary feel enables the camera's POV to connect the audience to Iran's prohibitions, making the viewer feel the jarring experience beat for beat.
Soccer fan or not, this is an entertaining social commentary which needs to be seen. Soccer is the instrument which brings total strangers together, and Offside really speaks as a brutal political statement just as much it does as a soccer movie extolling Iran's nationalism and soaring victory. – John Gibbon
Rudo Y Cursi (2008) – Quite a few fierce and exciting rivalries take place in the sport of soccer. If you take a serious look in any direction, you'll discover two teams with a rich background and undying passion for the game clashing for full recognition and greatness. Liverpool and Manchester United, Real Madrid vs. Barcelona, and even the United States taking on Mexico draws out the best and worst from both players and fans.
Sometimes rivalries can get a bit more personal, as in the case of brothers Beto and Tato. The film depicts the changing relationship of two brothers who become soccer stars. These two men dream about escaping the drudgery of the banana plantation. The two play together in local soccer matches and draw small crowds due to their skill on the pitch. Tato (Gael Garcia Bernal) is the star striker and Beto (Diego Luna) is the eccentric goalkeeper. During one match they are spotted by a talent scout (played with comical ferocity by Guillermo Francella) and he offers them an opportunity to go to Mexico City with him to try for one of the country's big teams. Only there's a catch. Batuta can only take one of the brothers. The decision rides on a penalty shot and it is Tato who slips one by Beto, earning him a chance at his dream.
Batuta brokers a career for Tato, who starts off slow but rises to stardom, earning himself the nickname 'Cursi' (Tacky). Surprisingly, Cursi's real passion is not the game of soccer but music, and he begins to pursue a second career as a balladeer. His surefooted skills and his vocal talent secure his place as a national hero and he lands his dream girl Maya Vega (Jessica Mas), a famous model. Meanwhile, a resentful Bato waits for his golden opportunity to play the game. He's a devoted family man with a wife and kids, but his jealousy fuels his passion. When he finally gets the chance he sneaks off and heads to Mexico City, playing for a rival team and earning the nickname 'Rudo' (Rude) because of his hot-headedness on and of the field.
Neither brother is well-equipped to deal with the trimmings of success and find themselves victims to excess. Cursi loses his goal scoring touch while Rudo drifts into a dark, downward spiral tainted with drugs and gambling. Everything comes down to match of the rival teams, and both players face humiliation and worse depending on the outcome.
The film could have been a silly, sloppy dud, but thankfully that doesn't happen here. While the movie is lively and engaging, the energy moves with same fever as a soccer match – from a brisk, lighthearted pace to a darker, more cynical crawl and back again. Yet, it is a movie which perversely keeps the cameras away from the game most of the time. I say this because when the film does roll on game action, the scenes shine with accuracy and flesh out the intensity of the game. But it's the brotherly relationship that adds the extra texture and equilibrium to the film. Luna and Bernal possess such a magnetizing and realistic machismo when they are on screen. I'll admit I was drawn to this movie, not so much for the soccer element, but because these two actors were so dynamic together in Y Tu Mama Tambien, easily one of the better films of this past decade. Some of the thinner moments in the film are made more engaging by Luna and Bernal and they make their characters more believable by adding skilled depth and emotion. It's a pleasure to watch the chemistry and engaging humor between actors who clearly enjoy each other's company.
This is soccer story in which no one actually goes home a winner. In fact, I expect some might get mad at the ending and that's understandable. Nonetheless, even as the credits role, Rudo y Cursi scores from every angle — comic, personal and cross-cultural. – JG
Shaolin Soccer (2001) – Every so often a film comes along that has a freshness to it that is simply a joy to behold. Stephen Chow's comedy Shaolin Soccer is one such film. Sing (Chow) is a former Shaolin monk looking to find a way to fulfill his master's dying wish of bringing the teachings of the Shaolin to the public. He teams with Fung (Ng Man Tat), a former soccer star who allowed himself to be disgraced in a scandal years earlier, to form a soccer team consisting of his former fellow monks from his temple. Although resistant to the idea at first, the monks join Sing in forming a team to enter in a national soccer tournament. Opposing them is Hung (Patrick Tse Yin), the head of the soccer association, orchestrater of Fung's humiliation and owner of a team that is strengthened through drugs and rigorous experimental training regimes.
Shaolin Soccer's story is simple, and that's where its genius lies. It's a tale of reclaiming honor and one's sense of personal worth. Sing's brother monks have been out in the world too long and have found that the specialized training they received has not prepared them for modern society. Unlike Sing, they have lost their faith in the teachings they learned and are struggling to fit in to what is for them an alien environment. There's also no moral ambiguity to the story. You know exactly who the bad guys are. (The opposing tem is called Team Evil, for goodness sakes.)
The movie is pure cinema, with a visual wit, energy and imagination that will evoke laughter of surprise and delight. Players fly through the air in the style of the old Shaw Brothers kung fu films, spinning and whirling as they move the ball down the field for a goal. Balls are kicked with such power that they threaten to burst into flame, but are still stopped dead by a goalie's calmly outstretched hand.
Chow goes all out to get his audience to laugh, demonstrating ability at physical humor that definitely transcends the language barrier. Some of Chow's wordplay humor might not work as well when translated to English, but that's forgivable here. This movie strives to please and it does. Chow even manages to bring new life to that oldest of slapstick clichés, slipping on a banana peel. But to say more though would ruin several of the surprises that the film contains.
The Year My Parents Went On Vacation (2006) – When the editor of Film Buff On-Line asked me to write a recommendation for a soccer film, this was the first title that came to my mind. So, even though soccer only plays a small part of the story, it is such an important element in the DNA of the film, I had to include it. The film is The Year My Parents Went On Vacation from Brazilian writer/director Cao Hamburger. The year mentioned in the title is 1970 and excitement is in the air as Brazil makes it to the World Cup Finals and with Pele on their team, what could possibly be wrong!
Well, lots actually.
Our protagonist is 11 year old Mauro (Michel Joelsas) who, along with his political dissident parents is on the run from the military police. In order to protect Mauro, his father arranges to leave him with his paternal Grandfather while they "go on vacation", which is a euphemism for hiding out from the authorities. So Mauro gets dropped at the entrance of a large scary apartment building in a run down section of Sao Paulo and with a quick hug and a kiss, his parents are gone. Unbeknownst to them however, Mauro's Grandfather has just died that morning from a heart attack. Things then go from bad to worse for Mauro as this is a very Orthodox Jewish area of Sao Paulo and most of the residents only speak Yiddish, a language that sounds like so much gibberish to young Mauro who didn't even know his father was Jewish. Now enters Shlomo (Germano Haiut), a crabby, ill-tempered old duffer who lives in the apartment next door to Mauro's deceased grandfather. There is a great discussion among the neighbors about what to do with Mauro and finally, the local Rabbi decrees that since God dropped Mauro on Shlomo's doorstep, HE must know what he's doing and orders Shlomo to care for the boy until his parents return, albeit with help from the community. Talk about an odd couple!
But this is where soccer comes into play. Because Brazil is in the World Cup Finals against Mexico, the entire country gets united behind their national team and before long everyone from Communist to Capitalist, old to young, male to female or whatever combination you can come up with manages to put aside their differences long enough to root for Pele and team Brazil. If I have made The Year My Parents Went On Vacation sound like a Brazilian Home Alone, I apologize; nothing could be further from the truth. What I liked about this film was the way it managed to negotiate the growing friendship between Mauro and Shlomo without resorting to emotional tricks or false sentiment.
In fact, The Year My Parents Went On Vacation is one of the least sentimental films I have seen. With its excellent performances, well written script, exceptional cinematography and understated, but effective music score, The Year My Parents Went On Vacation is a coming of age dramady that is light years ahead most other films in that usually overwrought genre. I can't recommend this film enough. – MG