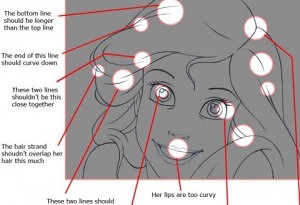 A little caveat emptor for those searching online for a unique gift for the Disney fan in their lives. Most of the Disney animation art available through auction site eBay is probably a fake. And not very good ones at that.
DisneyFakes.blogspot.com has a small catalog of some of the more recent forgeries that have turned up online, pointing out the differences between the real and the fake.The blog's anonymous writer tells Cartoon Brew that he worked as an inbetween clean-up artist for Disney's The Princess And The Frog and "carefully analyzed the clean-up drawings with the finished film frames, and discovered numerous discrepancies consistent with forgeries." He added –
I made a blog cataloging all the drawings that have been sold and I point out the differences between the fake and original. I have about twenty drawings up so far and in total they've sold on eBay for almost $3000 (I have about five or six left on my computer to put up) . And all but one or two of the drawings are from the same seller Hkleiman.

When I contacted the seller I was concerned and told him that one of the drawings he's selling might be fake. He assured me that they're real and he gets them from a trusted Disney animator. But with my blog I think I've shown enough differences to disprove that. My goal with this blog is to help people spot the differences between a real drawing and a fake and to hopefully get these people their money back. But before I contact the buyers I wanted to get some feedback from professionals.
I have to repeat what the folks at Cartoon Brew caution about buying original animation art – Make sure you are buying from a gallery or dealer who has an established reputation. And avoid this hkleiman on eBay.