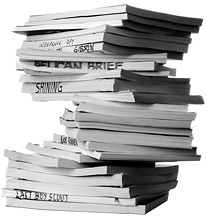 Politics, power and corruption dominated the top 10 of this year's Black List released today, with four chosen titles directly relating to politics and one other with possible political undertones.
Compiled by polling 300 development executives and high-level assistants, The Black List is a list of the hottest and most like screenplays that have been circulating in Hollywood over the past 12 months. The scripts could be currently in production, optioned by a studio or are still looking for a sale. The only stipulation is that any film made from a potential Black List script cannot be released in 2010. For example, Margin Call, number seven on the list, is completed but won't be premiering until next month at Sundance.
Heading off this year's list is Wes Jones's College Republicans, a script based on real events which tells the story of "aspiring politician Karl Rove [who] runs a dirty campaign for national College Republicans chairman under the guidance of Lee Atwater, his campaign manager." The FBI's 1980 investigation into Congressional corruption known as Abscam is the subject of American Bullshit, while Argo recreates the real-life CIA operation that "used a fake movie project to smuggle hostages out of Tehran during the 1979 Iranian hostage crisis." Jackie, the number two script on the list, looks at Jackie Kennedy in the week following JFK's assignation. The last 24 hours of collapsed financial giant Lehman Brothers is charted in Margin Call.
Although some have speculated that with the List's rise in prominence since it first was published in 2005 there has come a similar rise in voters trying to promote scripts that they have business ties to. While it may be true that there is some of that going on, past results show that those screenplays that make the list are generally the cream of the crop. Last year's Black List (topper/no 1? was) The Social Network, which many critics have already named the best film of this year.
For those of you following along year after year, the 2010 installment of the Black List will yield some familiar names. Danny Strong, who topped 2007's list for his 2000 election drama Recount, is back with The Butler, the true story of White House butler Eugene Allen, who served eight United States presidents from 1952 to 1986. The list isn't restricted to just up-and-coming writers, either with such strong scripters as Brian Helgeland (LA Confidential), Alex Kurtzman and Bob Orci (Star Trek) and Rian Johnson (Brick) all having spots on the list.
Special note should be made of Dan Fogelman, who scored two spots on this year's list for his drama Imagine, about a man who wonders tries to live his life differently after reading an old letter he received from John Lennon and Crazy, Stupid Love about a man whose ideal life is shattered when he discovers that his wife has cheated on him and wants a divorce.
While most of the loglines describing the scripts seem interesting, there are a few duds that stand out. Hunger Games ("In an America of the future, young boys and girls are forced to participate in a televised battle to the death.") sounds like a riff on the modern Japanese classic Battle Royale, while One Day ("Dexter and Emma meet for the first time at college graduation in 1988 and proceed to reunite one day a year for the next 20 years.") recalls Neil Simon's Same Time, Next Year. Anyone who has ever seen the classic MASH episode "Tuttle" may find that the synopsis for Ricky Stanicky ("For years, three lifelong friends have used an invented character named Ricky Stanicky to get out of sticky situations. When their wives demand a meeting with Ricky, the friends hire an actor to portray him.") rings a little familiar.
The following is the 2010 Black list's Top Ten. You can download the complete Black List here.
1.      College Republicans by Wes Jones (49 Votes) – Based on true events. Aspiring politician Karl Rove runs a dirty campaign for national College Republicans chairman under the guidance of Lee Atwater, his campaign manager.
2.      Jackie by Noah Oppenheim (47 Votes) – Jackie Kennedy fights to define her husband's legacy in the seven days immediately following his assassination.
3.      All You Need Is Kill by Dante Harper (45 Votes) – A new recruit in a war against aliens finds himself caught in a time loop where he wakes up one day in the past after having been killed on the battlefield.
4.      Safe House by David Guggenheim (43 Votes) – A young man at a CIA-run safe house in Rio de Janeiro must help a rough ex-agent escape assassins who want intelligence that he won't sell them.
5.      Stoker by Wentworth Miller (39 Votes) – After the death of her father, a teenager must deal with a mysterious uncle who returns to spend time with the family.
6.      999 by Matt Cook (32 Votes) – A gang of crooked cops plans a major heist that will require them to shoot a fellow officer in order to get away with it.
7.      Margin Call by J.C. Chandor (31 votes) – Based on true events, the final 24 hours of Lehman Brothers
8.      American Bullshit by Eric Warren Singer (30 votes) – The true story of Abscam, the FBI's 1980 undercover sting operation of Congress to root out corruption, which was the brainchild of the world's greatest con man.
9.      Argo by Chris Terrio (28 Votes) – The true story of how the CIA, with help from Hollywood, used a fake movie project to smuggle hostages out of Tehran during the 1979 Iranian hostage crisis.
10.  The Last Son of Isaac Lemay by Greg Johnson (24 votes) – An aging outlaw convinced that there is evil in his genes goes on a journey to kill his offspring. In the process, he discovers that his last remaining son is a terrifying manifestation of his worst fears.