Are we seeing a planned tsunami of public relations for the upcoming X-Men: First Class this week or is studio Twentieth Century Fox engaging in some fast damage control.It turns out that the first cast photo which hit online Tuesday was something that director Matthew Vaughn hadn't approved. As he told SlashFilm–
I freaked out on them yesterday. I don't know where the hell that came from. I don't think it's a Fox image. It's not a pre-approved image. When I found out, I said, what the fuck is this shit, and Fox is running around trying to figure out what happened as well. I agree. It's like a bad photoshop, which maybe it was by someone. It didn't reflect the movie. I was shocked when I saw it.
To compensate, Vaughn passed along two new pictures from the film. One of Michael Fassbender as Magneto in the villain's classic helmet and one of James McAvoy as Professor Xavier. (Click on any picture in this article for a bigger version.)
Vaughn also stated perhaps hinted at the plot when he described the film's 1960s setting when he said, "Imagine the Cuban Missile crisis and discovering that mutants exist, both at the same time." Intriguing.
And Vaughn wasn't the only one working the PR phones yesterday. Producer Bryan Singer gave Aint It Cool News' Harry Knowles a call to briefly chat about the movie and to send along the first teaser poster to be released.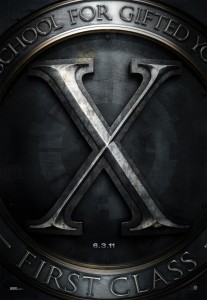 Meanwhile, the LA Times yesterday ran a set visit piece that features three new photos from the film. As we can see below, we get another look at most of the cast, albeit in their civilian attire this time, a picture of James McAvoy and Michael Fassbender as Professor Xavier and Erik Lehnsherr a.k.a. Magneto that works to draw a parallel to similar scenes shared between Patrick Stewart and Ian McKellen in the original X-Men trilogy and our first look at Kevin Bacon as the mysterious Hellfire Club's Sebastian Shaw having a conversation with January Jones's Emma Frost in a leather cat suit that looks like the white version of the one worn by Diana Rigg on the 1960s British series The Avengers.
And finally, MSN has released a higher resolution look at the Vaughn-hated cast photo from earlier in the week. The banner photo has been split into two parts.