Earlier this week , when Toy Story 3 received five Oscar nominations, it's inclusion in the Best Adapted Screenplay category raised a few eyebrows. It's not like the film's story was based on pre-existing material in the form of a comic book short story, novel or other such work we normally connect with the category.
In response to numerous questions about the nomination, Toy Story 3's director Lee Unkrich took to twitter and offered up this explanation.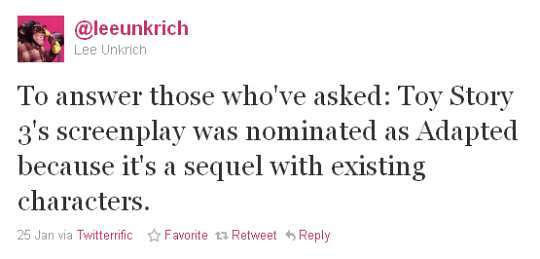 Fair enough. And while the reasoning is certainly sound, a review of the Motion Picture Academy of Arts and Sciences rules doesn't actually present any clear definitions as to what qualifies for either writing category. Granted, when the Adapted Screenplay award is presented on the Oscar telecast, it is called "Best Writing, Screenplay Based on Material Previously Produced or Published." I have to admit to some surprise that the Academy hasn't really nailed that down any further.