An unproduced screenplay from writer/director Kevin Smith is getting adapted into comic book form.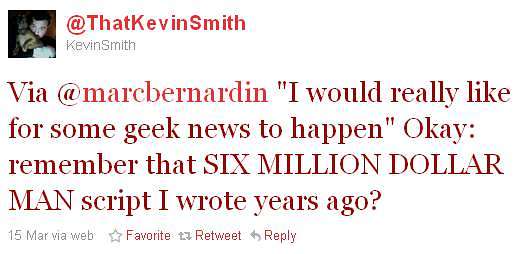 Even though Smith isn't saying it, you can bet money that it will be comics publisher Dynamite putting out the book. Smith and Dynamite teamed up last year to do an adaptation of the Green Hornet screenplay that Smith wrote during his tenure developing the project for the Weinstein Company. It obviously was a big enough success for the publisher that they've decided to go ahead with this.
A big screen adaptation of the classic 1970s science-fiction/action series The Six Million Dollar Man has been in development on and off for years now. Loosely based on the novel Cyborg by Martin Caden, the original series starred Lee Majors as Air Force test pilot Col. Steve Austin, who, after a terrible crash of an experimental plane, has his damaged legs, right arm and right eye replaced with robotic or "bionic" parts. Smith was hired to work on the project back in the 1990s.
It's been years since I've read the draft that Smith turned in, but I recall that the second half was filled with a crazy amount of action. But the scene that stood out for me was a short, two page exchange between Steve Austin and his fiancee Jamie Summers on the morning of his fateful test flight. Their dialogue was sweet and playful and really defined their relationship in just a few short strokes.