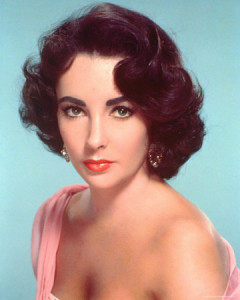 She might only be remembered by some for all the jokes told about her numerous marriages. For a whole generation, her most memorable film role was as Fred Flintstone's mother-in-law in 1994's The Flintstones. But Elizabeth Taylor, who died from complications of congestive heart failure today at the age of 79, was far more than that. She was the definitive actress of her generation. She mixed glamour and sexiness with talent and ability to become one of a dying breed–the classic Hollywood movie star.
Born to American parents in London, England on February 27, 1932, Taylor relocated to Los Angeles in 1939. Through a series of connections, the young Elizabeth was introduced to Hollywood producers, who, struck by her beauty even at that early age, signed her to a contract. The nine-year-old Taylor made her film debut in 1941's There's One Born Every Minute.
Thus began a career as a child actress. Her breakthrough role was as Velvet Brown in National Velvet, which garnered international acclaim and success.
Taylor became one of the rare child stars to graduate to adult stardom. Her role in 1950's Father of the Bride reestablished her box office power, and 1951's A Place in the Sun let the world know that she was a strong dramatic actress as well.
The 1950s and 1960s became the decade where her legend was born. She starred in notable films such as Giant(1956), Raintree County(1957), Cat On a Hot Tin Roof(1958), and Suddenly, Last Summer(1959), earning Oscar nominations for the last three.
She won the Best Actress award for 1960's BUtterfield 8 and won the award again three years later for Who's Afraid of Virginia Woolf?
It was also during this period that Taylor became a tabloid darling, as controversial marriages to Eddie Fisher and Richard Burton gave the rumormongers plenty to work with.
Taylor's career entered into a decline in the 1970s, and after 1980, she was all but retired from film. She appeared more often on television, including a number made-for-TV movies, notable guest appearances on soap operas such as General Hospital and All My Children, and animation voice work–most notably providing the first words (and essentially, only) for baby Maggie Simpson on the The Simpsons.