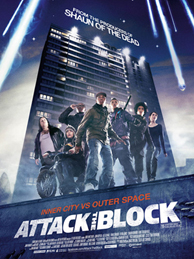 It seems that one of the biggest movie's to come out of the recent concluded SXSW festival in Austin was the British science-fiction action flick Attack The Block, winning the festival's Audience Award. And now Screen Gems has picked the film up for distribution here in the States.
The feature film debut of Shaun Of The Dead producer Joe Cornish, the film tells the story of a London group of teens who find themselves defending their South London tower block from an alien invasion. Shaun Of The Dead's director Edgar Wright has served as one of the film's executive producer.
After the movie screened in Austin, there was some online conversation as to whether the cast's thick London accents might pose a problem for some American audiences or put off possible distributors for the film. It certainly looks as if Screen Gems doesn't seem to find the accents problematic. Although if they redub or subtitle the film, I will be sorely disappointed.