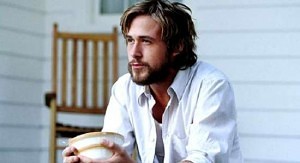 For some time, Johnny Depp has been set to play Tonto in Walt Disney's in The Lone Ranger, but no one had been attached to the project in the title role of the masked man of the Old West. We've now learned who may be riding along side of Depp when cameras finally role on the project.
The Wrap is reporting that Ryan Gosling is currently in talks to star in Disney's new adaptation of the classic western hero. The one condition to his taking the role, though, could be the planned fall shoot for the film could conceivably conflict with another project that Gosling is already signed for. He has previously been set to star in Warner Brother's Logan's Run remake, which is also eyeing a fall shooting start.
Gore Verbinski, whom Depp worked on with the original Pirates Of The Caribbean trilogy, is set to direct from a screenplay by Revolutionary Road's Justin Haythe. Disney is aiming to have The Lone Ranger galloping into theaters in 2014.