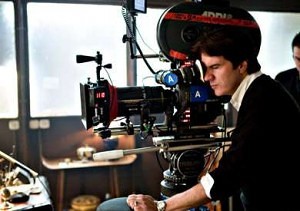 The planned remake of the 1934 classic mystery comedy The Thin Man takes another step forward as Warner Brothers has hired Pirates Of The Caribbean: On Stranger Tides direct Rob Marshall to helm the project. Marshall's involvement was tentative when the project was first announced last fall. Marshall and his producing John DeLuca will produce the film under their Lucamar Productions banner.
The remake is a bet project of Johnny Depp, who will be playing the role of a former detective who comes out of retirement to solve a murder mystery involving a rather ecentric family. The inimitable William Powell played the detective, Nick Charles, in the original. Powell's chemistry with co-star Myrna Loy as his wife Nora helped turn the film into a six installment franchise.
In a press release, Marshall stated, "John [DeLuca] and I are overjoyed at the idea of working with Johnny [Depp] again, especially on such a classy and classic project… We are looking forward to working with Warner Bros. to create a reinvention of a beloved story."
Marshall's hiring should come as no surprise. Depp is the engine driving this film through the development process and once Depp decides he likes a director, he tends to stick with him for a number of projects. Just ask Tim Burton or Gore Verbanski.
With Marshall's hiring, I suspect that this film will fly under the radar for a bit. Jerry Stahl was only hired to write a screenplay at the end of March, so they'll need time to go through that process before things like casting can commence.
I'm still not sold on the idea of remaking The Thin Man. Granted it's been stated that this new version will stick a closer to the tone of Dashiell Hammet's original novel than the 1934 film and it's sequels did. But I think that the original film is so pitch perfect that a new version could never be quite as good in it's own right.