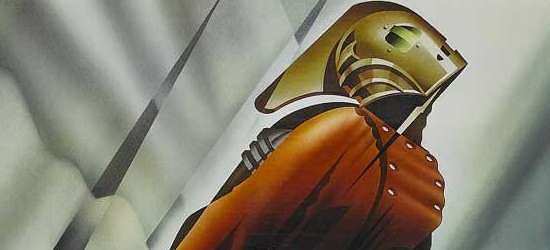 Oh, do not tease me so.
I've often called Disney's criminally underrated 1991 film The Rocketeer, an adaption of artist Dave Stevens hero, one of the best comic book adaptations ever. It has everything you would want – a dashing hero with a rocket backpack saving a beautiful damsel in distress, cunning villains, exploding blimps and a sense of joy and fun that permeates everything. And while the movie may not have been a financial success for Disney at the time, it has since grown a legion of fans who have discovered the film on home video.
The man responsible for directing the 1930s-set film is also the man behind the 1940-set Captain America: The First Avenger, and is currently doing the publicity rounds for the film. In an interview with Film Journal, Johnston was asked about The Rocketeer and the chance we would ever see that world on the big screen again.
I'd love to make a sequel to The Rocketeer. The film didn't do as well at the box office as we all hoped, but it has endured and generated a following. It was great fun and I'd love to re-explore Cliff Secord's world.
The Rocketeer has been getting a but of a boost lately in comics circle with IDW having recently launched an anthology mini-series with a number of top line creators telling stories of the hero.
Of course, Johnston isn't the only one. The film's star Billy Campbell stated that he wouldn't be adverse to strapping on the rocket pack again to play the high-flying Cliff Secord a second time back in 2008.
So what do you say Disney?