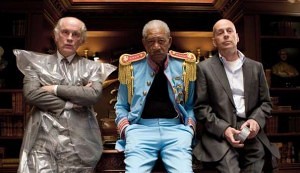 Warner Brothers have found themselves a director to helm their planned sequel to the action comedy Red. Galaxy Quest helmer Dean Parisot is reported to be in final negotiations with the studio to head up Red 2.
With Galaxy Quest on his resume, Parisot certainly does seem to be a good choice, but you have to remember he also directed the fairly awful 2005 remake Fun With Dick And Jane and has been exiled to directing television ever since.
The first film was (very loosely) based on a comic book miniseries created by Warren Ellis and Cully Hammer and starred Bruce Willis, Morgan Freeman, John Malkovich and Helen Mirren as a quartet of retired black-ops spies who are targeted for termination by their former due to their now-inconvenient knowledge of certain political secrets. The Hollywood Reporter states that all four actors are expected to return for a sequel, though if you've seen the film you know that that might be hard for one of the quartet.
With the first film earning more than $200 million worldwide, it was a forgone conclusion that studio would want to turn it into a franchise. To that end, they were quick to order a screenplay from the first film's screenwriters, Jon and Erich Hoeber in January 2011. The studio is hoping to get the film in front of cameras later this year, most probably after Willis finishes filming Die Hard 5. No release date has been set, but I would guess that we shouldn't start looking for it before Summer 2013.