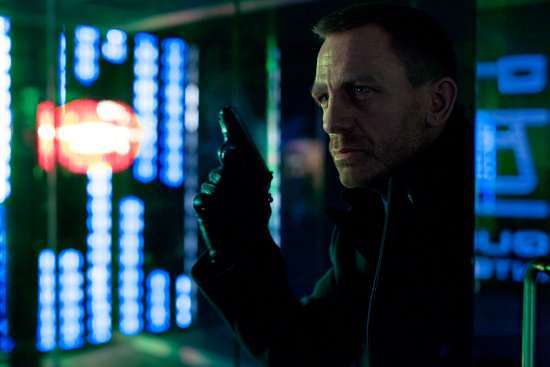 The latest James Bond adventure, Skyfall, will also be the first of the five-decades-old franchise to get a release in IMAX theaters it was announced today. The film will be digitally remastered for the format by the time it opens internationally on October 26 and two weeks later on November 9 in the US.
In The press release announcement, which you can read in its entirety below, IMAX Filmed Entertainment Chairman and President Greg Foster is quoted as saying "It is an honor and a privilege to be a part of this legendary franchise, whose iconic characters and electrifying action will only be amplified in the IMAX format."
Unfortunately, I don't think that last part will be exactly true.
The truth of the matter is that director Sam Mendes has not been shooting any portion of Skyfall with actual IMAX cameras. This means that the frame shot with a standard movie camera will be digitally enlarged for the bigger IMAX screen, which could possibly lead to some picture degradation. Standard digital cameras do not have the resolution capacity that IMAX projection requires and that IMAX digital cameras possess.
Additionally, I can find no mention that Mendes and his director of photography Roger Deakins have actually shot any of the film with the idea that it will be seen on IMAX screens with their substantially different aspect ratios from traditional theater widescreens. Will their work have to be cropped for IMAX?
The upshot is that this may very well not be as exciting and immersive a film experience as the recent Mission Impossible: Ghost Protocol – which did have sections shot with IMAX cameras and an eye for the different screen requirements of the format – was.
Now it is possible that the press release is just referencing the IMAX branded screens that are nothing more than enlarged standard theater screens with a higher end audio and digital presentation and not the 1.44:1 aspect ration of what I guess we could call "classic" IMAX presentation. If that is the case, there should probably be no real composition compromise, but if the few films I've seen on these newer IMAX branded screens are any indication, there will still be some possibility of a less than crisp picture.
But hey, given MGM's financial problems over the last few years, I really can't blame them for trying to rake in a few extra bucks through an IMAX upcharge on tickets. Makes me surprised that they didn't go all out a try for a post-production 3D conversion as well.
Here's the complete press release –
Los Angeles – February 23, 2012 – IMAX Corporation (NYSE:IMAX; TSX:IMX), Albert R. Broccoli's EON Productions, Metro-Goldwyn-Mayer Studios, and Sony Pictures Entertainment today announced that the long-awaited next chapter in the famed James Bond franchise, SKYFALL, will be released in IMAX® theatres simultaneously with the film's international release on Oct. 26, and its domestic release on Nov. 9, 2012. This is the first IMAX installment of the iconic Bond film franchise.

In SKYFALL, Bond's loyalty to M is tested as her past comes back to haunt her. As MI6 comes under attack, 007 must track down and destroy the threat, no matter how personal the cost.

SKYFALL marks the return of Daniel Craig as Ian Fleming's James Bond 007, as well as Judi Dench reprising her role as M. The film also stars franchise newcomers Ralph Fiennes, Javier Bardem and Naomie Harris. The film is directed by Sam Mendes from a screenplay written by Neal Purvis & Robert Wade and John Logan. Michael G. Wilson and Barbara Broccoli are producers.

"SKYFALL will be the cool, must-see event release of the fall, and releasing the film in IMAX only reinforces that," said Rory Bruer, President, Worldwide Distribution for Sony Pictures Worldwide Marketing and Distribution.

"It is fitting that with SKYFALL marking the 50th Anniversary of the James Bond franchise, we celebrate in epic style and what could be more larger-than-life than IMAX joining the festivities," said Gary Barber and Roger Birnbaum, Co-Chairman and Chief Executive Officers of MGM.

"It is an honor and a privilege to be a part of this legendary franchise, whose iconic characters and electrifying action will only be amplified in the IMAX format," said Greg Foster, Chairman and President, IMAX Filmed Entertainment. "We are excited to rejoin forces with our friends at Sony Pictures Entertainment and MGM and so pleased to work with Michael G. Wilson, Barbara Broccoli, and Sam Mendes to bring their vision to IMAX and Bond fans around the world."

The IMAX release of SKYFALL will be digitally re-mastered into the image and sound quality of The IMAX Experience® with proprietary IMAX DMR® (Digital Re-mastering) technology. The crystal-clear images coupled with IMAX's customized theatre geometry and powerful digital audio create a unique environment that will make audiences feel as if they are in the movie.