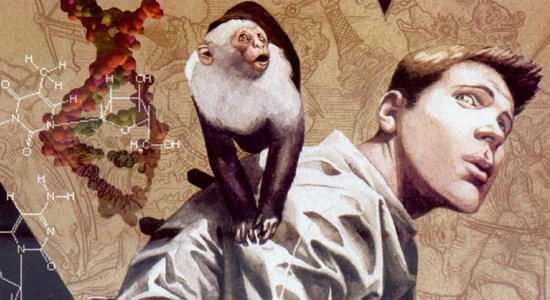 New line Cinema is taking another run at bringing the Vertigo comic book Y: The Last Man to the big screen. The studio is in final negotiations with writing duo Matthew Federman and Stephen Scaia to script a brand new screenplay for the project.
Created by writer Brian Vaughn and artist Pai Guerra, the 60-issue series centered on Yorick, a young escape artist who wakens one day to find that he and his pet Capuchin monkey Ampersand are the only survivors of a mysterious plague that has killed ever other male mammal on the planet. As he sets off on a cross-country trip to find his girlfriend, he finds himself pursued by a number of groups with various agendas. The series was noted by critics for using its fantastic storyline as a means of exploring gender-related issues.
Ferdeman and Scaia's background is in genre television having served as writer producers on Human Target, Warehouse 13, Jericho and the recent quickly cancelled Charlie's Angels reboot. They have also scripted a Zorro origin film that is currently sitting at Sony waiting for a greenlight.
New Line has been trying for several years to turn the five-time Eisner Award winning series with director DJ Caruso. Carl Ellsworth worked on polishing a screenplay originally written by Vaughn and Jeff Vintar did some further work. Shia LaBeouf was Caruso's first choice for Yorick, though the actor wasn't interested as he thought the character was too similar to his Sam Whitwicky character in the Transformer films. Caruso continually butted heads with New Line executives who wanted a single film where the director saw the project as a trilogy. He would walk away in the fall of 2010.
It is unknown if New Line is holding firm on making this a single film or if they have now have come around to thinking that the material is better suited to a series of films.
Via Hollywood Reporter.