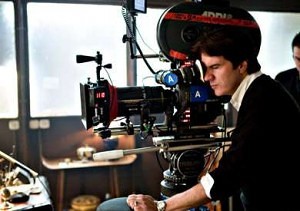 It's looking as if that Johnny Depp/Rob Marshall collaboration to remake the classic The Thin Man is moving forward. Deadline is reporting that Marshall will be meeting with several actresses for the lead role of Nora Charles. Among those on the reported shortlist are Eva Green, Amy Adams, Emma Stone, Carey Mulligan, Rachel Weisz, Kristen Wiig, Emily Blunt and Isla Fisher.
Johnny Depp will be starring in the mystery comedy story of former private investigator-turned-socialite Nick Charles who gets pressed back into his old detective job by his wife Nora after a friend of the family disappears. William Powell and Myrna Loy created cinematic history by playing the Charleses for six films for MGM in the 1930s and 40s.
Honestly, well, I do like some of these actresses, I don't think that any of them can hold a candle to Loy and her portrayal of Nora in the original film series. But if I had to pick, I would probably narrow my choices down to Eva Green, Amy Adams, and Carey Mulligan. Let's see what Marshall comes up with.