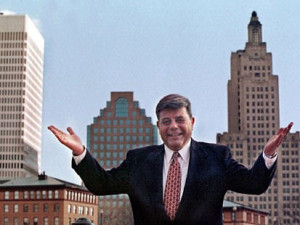 If you ever heard the name Buddy Cianci it is probably for one of two reasons – 1) His infamous tenures as mayor of Providence, RI which each ended in jail time or 2) Him being the name sake for the junior high school on Seth McFarlane's fictional Providence suburb Family Guy setting of Quahog, RI.
But if you don't know about Buddy through either of those two options, The Fighter director David O Russell is going to give you a third option. He has just signed on to direct a biopic on the colorful Cianci that is being developed by New York-based production company of Robert De Niro and Jane Rosenthal.
The currently untitled film will be based on Cianci's own memoir with the somewhat ungainly title of Politics and Pasta: How I Prosecuted Mobsters, Rebuilt a Dying City, Advised a President, Dined With Sinatra, Spent Five Years in a Federally Funded Gated Community and Lived to Tell the Tale. There's no word as to who will adapt the book, but the LA Times is reporting that while Russell won't be taking a crack at it himself, he will have input on the screenplay.
Spanning 21 years over two separate tenures as mayor, Cianci is the longest-serving mayor of Providence. He first held office from 1974 to 1984, having to resign following pleading guilty to assaulting a man whom he claimed was having an affair with his wife. Following a stint as a talk radio host, he ran for mayor again and won in 1991 on a platform of anti-corruption. Ironically, he had to resign in 2002 following a conviction of racketeering conspiracy. He served four years in a federal prision.
This is not the first time that a movie about Cianci has been proposed. Another version of his tale was attempted back in 2008 and even had the likes of David Mamet doing the screenplay and Oliver Platt signed to the lead. but it never got out of development.
Russell seems to be developing an interest in political corruption in the 1970s and 80s, as he has already signed on to direct American Bullshit, a 2010 Black List script about the Abscam scandal.