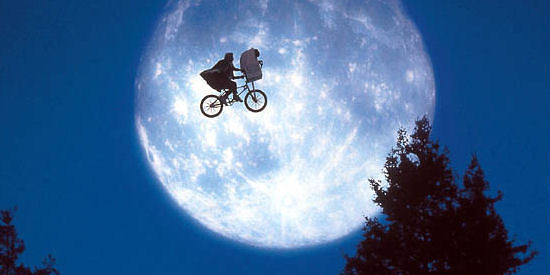 If you're a Steven Spielberg fan you have a lot to look forward to this fall between the release of the Indiana Jones films and his classic ET: The Extra-Terrestrial all on blu-ray. And with the release of the trailer for the ET blu-ray, it also appears as if Spielberg is making good on his promise about restoring the film back to how it looked when it was originally released in 1982. And by that we mean he has reversed the changes he made to the film for its DVD release back in 2002 for its 20th anniversary.
You may recall ten years back that when the film hit DVD, Spielberg had the scenes in which federal agents armed with guns digitally altered to change the firearms to more benign walkie-talkies. At the time he stated he was uncomfortable with the idea of adults pointing weapons at the children characters in the film. Although the 2002 DVD release actually contained both the original and the altered version of the film, the 2005 re-release only contained the newer, modified version.
More recently, Spielberg has admitted that what he did was a mistake and has encouraged people to watch the original version over the modified one. As you will see in the trailer below, the feds are once again armed with shotguns.
Now if we can just get him to have a conversation with his old friend George Lucas about this…