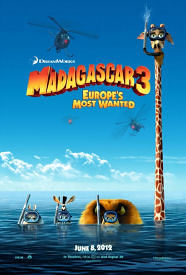 1. Madagascar 3: Europe's Most Wanted (Paramount/Dreamworks, 4,258 Theaters, 85 Minutes, Rated PG): This franchise has become Dreamworks' cash cow ever since the Shrek franchise bowed out, and since the franchise so far has earned over a billion dollars worldwide, it doesn't look like it will ever stop unless it too bows out gracefully.
The animals are once again on the quest to return to the Central Park Zoo. Their trip home takes them to Europe, which they travel through by pretending to be members of a travelling circus.
I'd expect more of the same from this franchise. While I liked the first installment, I never saw the second and really have no desire to see this one. However, I'll probably be in the minority for as long as it takes my daughter to get old enough to be able to watch the film. Then I'll probably be dragged to the inevitable sequels.
2. Prometheus (Fox, 3,394 Theaters, 124 Theaters, Rated R): So, is this film a prequel to Alien, or is it not? The whole back and forth over that question is a brilliant bit of marketing. Ridley Scott coming back to the franchise that made his name would get attention no matter what. But if you haven't seen any of the Alien franchise (and shame on you if you haven't) then keeping this film clear of that franchise would make it easier for you to understand.
The latest I heard is that this film is a prequel if you want it to be a prequel, but can stand on its own if you are an Alien neophyte. The film contains elements that made the Alien franchise great (slimy corporate hangers-on, androids that are the most interesting part of the cast, humans poking there noses in places where they don't belong, and catching hell for it in the form nasty aliens) but would appear to be not wholly beholden to that franchise's continuity. In other words, the best of both worlds.