When Harry Met Sally… . Sleepless in Seattle. You've Got Mail. If you were going to choose a Holy Trinity of romantic comedies, most people would choose those three. They were the rare "chick flicks" that husbands or boyfriends didn't mind being dragged to. The reason was the writing (and, for the last two, the direction) of Nora Ephron.
Ephron's life could make a pretty good Hollywood film on its own–and it did: 1983's Heartburn. Born into a family of writers and screenwriters–father Henry and mother Phoebe co-wrote the films such as Carousel and Desk Set in the 1950's,  sister Delia wrote The Sisterhood of the Travelling Pants screenplay, sister Amy is a novelist and sister Hallie is a journalist/novelist–Nora's life would become entwined with the worlds of politics, journalism, Broadway and Hollywood over her 40+ year career.
Ephron attended Wellesley College and spent time as an intern in the Kennedy White House. After her graduation in 1962, she moved to New York City to work in the mailroom at Newsweek. Her work on a parody of the New York Post during a newpaper strike resulted in her getting a job with the paper she parodied in the late 1960s. That job led to a career as an essayist, eventually becoming a columnist for Esquire.
In 1976, she married Watergate reporter Carl Bernstein and in a roundabout way it wa sthrough him that she entered the field she became most known for. She and Bernstein co-wrote a treatment for a screenplay forAll the President's Men, based on a book by Bernstein and Bob Woodward. The treatment wasn't used, but it was good enough to get Ephron noticed by the Hollywood establishment.
After ten years of writing for television, made the jump to the big screen, co-writing the screenplay for 1983's Silkwood, which would earn her her first Oscar nomination. Her next screenwriting work would be on the 1986 film adaptation of her 1983 novel Heartburn, a semi-autobiographical tome that detailed the dissolution of her and Bernstein's marriage.
In 1989, Ephron's breakthrough screenplay, When Harry Met Sally… hit theaters. The script detailed the long journey of two people from adversarial strangers to friends to lovers, and would earn Ephron her second Oscar nomination.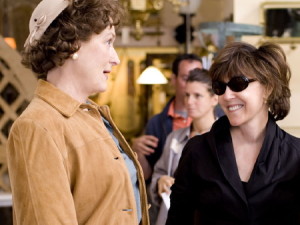 Ephron would parlay her success with that film into a career behind the camera as well, more often than not choosing to direct her own writing in films such as Sleepless in Seattle (which garnered Ephron her third Oscar nomination), Michael, You've Got Mail and Julie & Julia, Ephron's final film which reunited her with Meryl Streep, the actress that starred in her first film screenplay Silkwood and played a fictionalized version of Ephron inHeartburn.
On a personal note, Ephron's passing today, due pneumonia which arose as a complication from her six-year battle with acute myeloid leukemia, is a sad occassion in the Gatevackes household. Even though it was released over a decade before we met, When Harry Met Sally… was a film that brought my wife and I together. We both loved that film, and would often quote lines to each other from it as a form of a courtship ritual. And while Ephron is no longer with us, her body of work will make her immortal. My wife and I eagerly await the day when our daughter is old enough so we can watch When Harry Met Sally… with her.