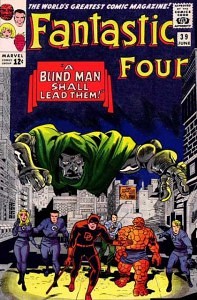 Marvel Comics, in its haste to get its properties on the big screen, made a lot of "use them or lose them" deals regarding the rights, meaning that the film studios would keep the rights as long as they kept making films featuring the Marvel characters. This was good at first because it resulted in a lot of great films by top name directors. But now that Marvel is owned by Disney, a company that knows a thing or two about films, you get the sense that the powers that be wish that some of these properties will come back into the fold.
Fox owns the rights to the X-Men and just about all of Marvel's mutants, the Fantastic Four and Daredevil. The studio is keeping a stranglehold on the lucrative X-Men rights, always having at least one X-film in development at all times. However, Deadline reports that there has been some action on the Daredevil and Fantastic Four fronts, news that might result in one of the properties reverting back to Marvel.
Deadline states that Chronicle director Josh Trank has been officially named by Fox as helming the Fantastic Four reboot. The FF reboot is on the fast track, meaning that it is expected to be the next Marvel film to come from the studio after The Wolverine and Matthew Vaughn's X-Men: First Class sequel and it will be the much in demand Trank's next film. It has been five years since 2007's Fantastic Four: Rise of the Silver Surfer, and while the FF were a financial success for Fox, it was far from a success with the critics. Hopefully, this reboot will address that.
2003's Daredevil was a similar box-office success yet a critical disappointment, and Fox has been looking to reboot that franchise as well. Since we are approaching ten years since that film came out (time flies, doesn't it?), if Fox doesn't act soon, the rights to Ol' Hornhead will revert back to Marvel. And a recent development might mean that we could see Daredevil's lawyer alter ego Matt Murdock representing Mark Ruffalo's Bruce Banner or Robert Downey Jr's Tony Stark in the near future.
David Slade has dropped out of the reboot over time constraints. Fox needs the new Daredevil film to start production in the fall to avoid the rights going back to Marvel and Slade, who is directing the pilot for NBC's Hannibal series, cannot find time in his schedule to work within Fox's. There is a script that the studio likes and is ready to go, but Fox needs to find a new director that is ready to get started quickly and get a project up and running by the times the leaves turn. It could happen, but considering that Fox chose Brett Ratner as a last-minute replacement for Bryan Singer and Matthew Vaughn on X-Men: The Last Stand, I don't trust Fox's judgement on finding replacement directors who can get a project up and running quickly. It might be better to just let Marvel take over.