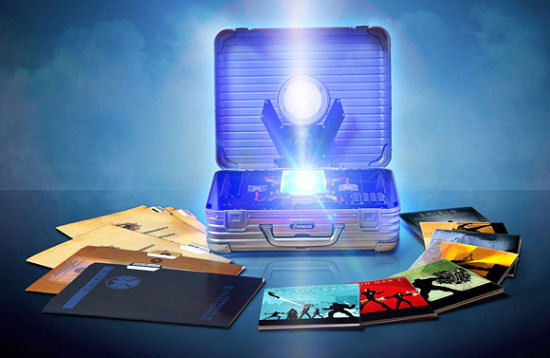 You know that pretty cool looking ten disc Marvel Cinematic Universe: Phase One — Avengers Assembled Box Set scheduled to go on sale next month? Well, there might be a hitch in that as Marvel is being sued by a German luggage manufacturer over the set's design.
When Sam Jackson's Nick fury was seen carrying such a case in The Avengers, it was because the case's maker Rimowa GmbH had given permission to Disney and Marvel Studios permission to use their product in the film. However, that permission did not extend to any merchandising and so the company is suing.
According to the company's complain filed in federal court last week-
Marvel did not obtain any license or authorization from Rimowa to make replica copies of the cases for any purpose… Images of the replica briefcase on Marvel's advertising materials, and fan video from Marvel's product display at this year's Comic-Con convention, show the plastic 'replica case' to be a close copy of Rimowa's Topas attaché case in every respect but quality — from the proportions and coloring, to the style of the handle and latches, and, of course, in the use of the trademarked parallel ridges around the body of the case.
Honestly, I am very surprised that this slipped by Marvel and Disney's lawyers as it seems like a very elementary thing to have checked on. And with the set scheduled to hit shelves on September 25, they don't have much time to reach a settlement with Rimowa GmbH. If they don't, I see their options would be to either redeisgn the packaging and destroy what ones they currently have manufactured or else delay the release of the set until an agreement is reached.
Via Hollywood Reporter.