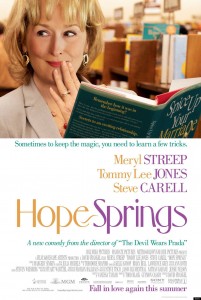 1. Hope Springs (Opened Wednesday, Sony/Columbia, 2,361 Theaters, 100 Minutes, Rated PG-13): Here's a rare sight: a film where Steve Carell is the youngest member of the main cast.
Carell plays a psychologist who is trying to help the optimistic Kay (Meryl Streep) and the reluctantly irascible Arnold (Tommy Lee Jones) to bring some magic back into their decades long marriage.
The plot seems kind of familiar, but you have Streep working with Jones, two of the best actors of their generation. If anybody can rise above their material, it will be them.
2. Nitro Circus 3D: The Movie (Opened Wednesday, Arc Entertainment, 800 Theaters, 98 Minutes, Rated PG-13): This film was based on the MTV show, which is a combination of Jackass, X Games and extreme motor sports, and is trying, like Jackass, to make a successful move to the world of film.
If this kind of stuff appeals to you, then you probably have already seen it. If not, then nothing I can say will change you mind. So, there is really not much need to say much more about this film, is there?


3. The Bourne Legacy (Universal, 3,746 Theaters, 135 Minutes, Rated PG-13): If there's one thing Universal should get credit for, it's doing an in continuity reboot of the franchise instead of just starting over from scratch, although the latter wasn't really feasible because the last Matt Damon Bourne movie, The Bourne Ultimatum, came out only five years ago.
However, the idea that there could be more than just one genetically altered secret agent seems natural. So, they have Jeremy Renner to expand the franchise and the freedom to make another Bourne film with Damon is he wants to come back. Pretty smart.
4. The Campaign (Warner Brothers, 3,205 Theaters, 85 Minutes, Rated R): You don't really expect political satire from Zach Galifianakis. Even more so from Will Ferrell. So, even though this film focuses on a contentious political campaign, don't expect a searing indictment of our political process. It will probably be two idiots trying to out stupid each other.
The film focuses on a North Carolina GOP primary (because having a Republican and a Democrat would be, what, too shocking? Too controversial? Not as funny?) where a scandal plagued incumbent, Cam Brady (Ferrell) must face off the challenge of a naive unknown with the implausible name of Marty Huggins (Galifianakis), who is being supported incredible rich backers who want to use his influence to land a controversial business deal.