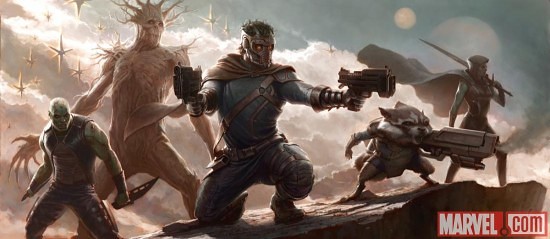 Recently, I had a conversation with a friend about the problems Marvel Studios might have in bringing the science-fiction heroes The Guardians Of The Galaxy to the big screen, specifically how would they frame a story set on one or even multiple alien planets for audiences? We basically decided that there were two approaches they could use. The first is a so called Dr. Who approach in which a very human, down-to-Earth (if you'll forgive the pun) character is introduced for the audience to identify with before being thrust into a series of fantastic adventures. (Think of how most of the companions have been introduced since the series was rebooted in 2005.) The other approach is a deep immersion/Star Wars approach of just dropping the audience directly into the alien worlds but write the characters with traits that we could identify with,  the way we can relate to Luke Skywalker's frustration and longing for a better life at the beginning of A New Hope even though he lives in a galaxy far, far away.
Well, the studio's logline (published over at The Wrap's It's On The Grid via Bleeding Cool) for Guardians Of The Galaxy has tipped us off as to which approach the script will be taking –
About a U.S. pilot who ends up in space in the middle of a universal conflict and goes on the run with futuristic ex-cons who have something everyone wants.
It may be tempting to guess that the "U.S. pilot" is Vance Astrovik, aka Vance Astro. While a major player in several Guardians storylines, the character doesn't appear in the artwork that Marvel released last month. But looking at our breakdown of that art, there is another character that fits much better to what the logline describes – Peter Quill, aka Star Lord. Although Quill was a stationed on an Earth space station when he became a member of the team, he is still a NASA astronaut and with just a few tweaks could fit right into that description.
And while we don't have an idea as to what it may be that "everyone wants," there is plenty of run to speculate. Another Tesseract (aka Cosmic Cube)? Perhaps the Infinity Gauntlet briefly glimpsed in Thor gets "misplaced" from its Asgardian armory in Thor: The Dark World? Some other powerful Macguffin?
Currently the script for the film is being rewritten by Chris McCoy, working from an initial draft by Black Lister Nicole Perlman. The film is scheduled to hit theaters on August 1, 2014.