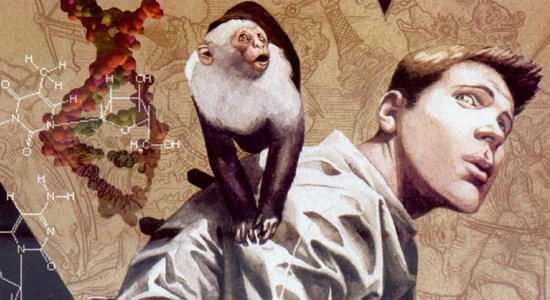 After six years of false starts, could New Line's adaptation of the DC Comics/Vertigo comics series Y: The Last Man be a priority for the studio? It appears so with Vulture reporting that the studio has finally gotten a screenplay for the film that they like and are moving on to the process of meeting with directors interested in taking on the project.
The new screenplay is by Matthew Federman and Stephen Scaia, creators of the Jericho television series. The writers have also worked on Warehouse 13, the recent, quickly-cancelled Charlie's Angels reboot and the comic book adaptation Human Target.
Created by writer Brian Vaughn and artist Pia Guerra, the 60-issue series centered on Yorick, a young escape artist who wakens one day to find that he and his pet Capuchin monkey Ampersand are the only survivors of a mysterious plague that has killed ever other male mammal on the planet. As he sets off on a cross-country trip to find his girlfriend, he finds himself pursued by a number of groups with various agendas. The series was noted by critics for using its fantastic storyline as a means of exploring gender-related issues.
New Line first became interested in adapting the film to the big screen back in 2006. The first director to try and tackle the material was DJ Caruso whose work on a screenplay first with Baughn and then writers Carl Ellsworth amd Jeff Vintar was enough to get Shia LaBeouf attached to play Yorick. After Caruso dropped out Incredible Hulk director Louis Letterier also worked on the project for a while before dropping out.
I have to admit to a small amount of concern, though. If New Line is happy with the script they have they are probably looking for a director who will deliver what is on the page. Will this journeyman approach be better than bringing in a director who has a strong vision for what the film should be? Or is it just an easier way for the studio to get the film finally made? We'll see…