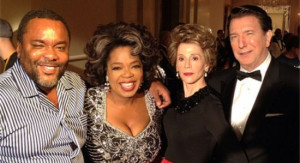 I am not much of a fan of director Lee Daniels. I hated his debut film Shadowboxer so much that I have had trouble sitting down to pursue his subsequent films. But I am interested in his upcoming film The Butler, based on a newspaper article by Wil Haygood, which tells the story of the head servant (Forest Whitaker) at the White House who looked after its chief residences for over three decades.
Daniels has managed to line up a stellar cast for the project (see below) and one of them, a certain Oprah Winfrey, managed to tweet out a picture of her, Daniels and Alan Rickman and Jane Fonda in their make up for their roles as Ron and Nancy Reagan. While Rickman and Fonda are not the first that would come to mind to play this particular First Couple, I have a feeling that they are going to surprise a lot of people with their performances. (Though I honestly think that the best depiction ever of Nancy Reagan was the scathing version performed by Saturday Night Live cast member Terry Sweeney.)
Additional cast includes John Cusack as Richard Nixon, Robin Williams as Dwight Eisenhower, James Mrsden as John F. Kennedy, Liev Schreiber as Lyndon B. Johnson, Alex Pettyfer, Minka Kelly, Lenny Kravitz, Jesse Williams, Cuba Gooding Jr., Terrence Howard, Vanessa Redgrave, Melissa Leo and David Oyelowo.