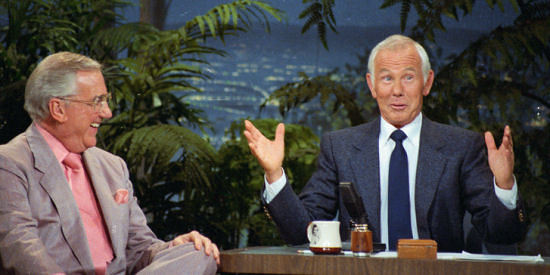 The estate of Johnny Carson is teaming with Black Swan-screenwriter John MacLaughlin and Hitchcock producer Tom Thayer for a biopic on the legendary late-night talk show host. The film will be based on Bill Zehme's upcoming book Carson: The Magnificent: An Intimate Portrait. MacLaughlin is currently working on the script, which Deadline states will be taken out to potential investors after the holidays.
As a journalist, Zehme is well known for his work covering comedy. He has previously written about current late-night mainstays Jay Leno and David Letterman as well as an in-depth biography of groundbreaking comic Andy Kaufman. Zehme was the only journalist that Carson ever acquiesced to talk to following his retirement.
For you young whippersnappers, long before current host Jay Leno watered-down the franchise, Carson's tenure on NBC's The Tonight Show was considered the gold standard of talk shows. His interview style was conversational and non-confrontational and he treated every guest, from the biggest names in show business to average people who collected potato chips, the same. Not only a pretty funny comic himself, and one who acknowledged that he stole much of his style from radio star Jack Benny, Carson loved bringing new, young comics to national attention. A single, well-received shot on The Tonight Show was enough to shot their career into the stratosphere.
But for however well Carson's professional life was, he had a troubled private life, one that was littered with many failed marriages and the tragic death of his son. And the backstage machinations by leno's then-manager that led to Carson's forced retirement and Leno taking over the show are the stuff of infamous legend.
Carson kept to himself following his retirement, shying away from the spotlight. After his death, it was revealed that he had occasionally sent jokes over to David Letterman to use.
Here a just a few great Carson moments. Feel free to fall down a Carson/YouTube rabbit hole, you probably won't be disappointed with what you find.