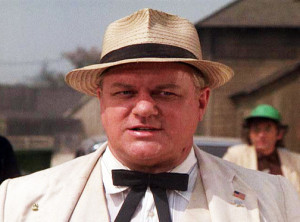 Charles Durning, the twice Oscar-nominated character actor who appeared in over 200 roles in television and film, died yesterday at his home in Manhatttan. He was 89.
The breadth of Durning's career is fairly wide. In the span of six decades he played characters that ranged from a Nazi to the Pope and included a variety of detectives, judges, doctors and military men. Some of his most notable roles were in The Sting (1973), Dog Day Afternoon (1975), for which he received a Golden Globe nomination, The Muppet Movie (1979), Tootsie (1982) and his two collaborations with the Coen Brothers – The Hudsucker Proxy (1984) and Oh Brother Where Art Though? (2000).
Durning's first Academy Award nomination came in 1982 for his portrayal of the comically corrupt governor in the musical The Best Little Whorehouse In Texas. A portly man, Durning surprised critics with his skill and dexterity as a dancer in the film's musical set pieces. (Durning had previously been an instructor at a dance academy.) His second Oscar nom came for playing a bumbling Nazi officer in Mel Brooks' remake of Ernst Lubitsch's To Be Or Not To Be.