1. Gangster Squad (Warner Brothers, 3,103 Theaters, 113 Minutes, Rated R): If you read Rich Drees' column on Movies and Tragedies, you'll know that this film was originally scheduled to hit theaters in September of last year. Unfortunately, the theater shooting in Aurora, Colorado caused a skittish Warner Brothers to reshoot a scene where gangsters shoot up a movie theater, which caused a delay until today.
Of course, this adds something to the film that it really doesn't deserve. It casts a pall over the film that makes it hard for fans to judge it in its own merits.
Although, that in and of itself might not be a bad thing. The film seems like a whole lot of great actors in a script that has been done over and over again (anybody remember 1996's Mullholland Falls? That too starred Nick Nolte, only he shared the screen with Chris Penn and not his brother Sean. Similar premise and adapted from the same true-life source). The less you think about that, the better.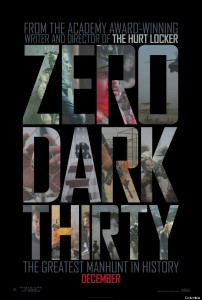 2. Zero Dark Thirty (Sony/Columbia, 2,937 Theaters, 157 Minutes, Rated R): So, who wants to guess that the timing of this film going into wide release today was meant to capitalize on what the powers that be thought would be a slew of Oscar nominations?
Well it got five, including Best Picture and Best Actress. But the buzz after nomination day is all about the fact that Kathryn Bigelow got snubbed by the Academy for Best Director.
I don't know if that slight will have any effect on how it does in the theaters. I can see the subject matter–the hunt for and the killing of Osama Bin Laden–as both bring in the curious and keeping the skittish away. But the fact that the Academy chose not to recognize Bigelow for the great job she did has no bearing on the quality of the film, which I understand is quite good.
3. A Haunted House (Open Road Films, 2,160 Theaters, 86 Minutes,Rated R): Back in 2000, when the Scream franchise was at the height of its popularity, the Wayans Brothers came out with a parody of that genre called Scary Movie. That franchise is still going although the Wayans have long left it behind. A fifth installment of that parody franchise is imminent.
Nowadays, the "found footage" horror film is all the rage,and, at least for one Wayans, ripe for parody.
Marlon Wayans wrote and stars in this film, which apes the current state of the horror genre in a similar way that the first two Scary Movies did to the horror films of their generations. But will films like Paranormal Activity be as good fodder as Scream was?