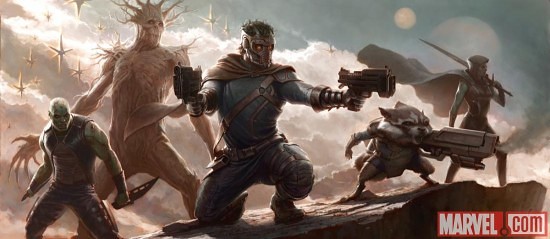 As casting continues for Marvel Studios' Guardians Of The Galaxy, word comes that the studio may be looking at two big name comic actors to join the cast – Adam Sandler and Jim Carey.
Latino Review first heard this rumor and brought it to our attention, though they have no further information as to what role or roles they may be in consideration for.
Since there is already a number of actors already associated with the role of the group's leader Peter Quill and all of them are younger, I doubt that Sandler and Carrey are being thought of for that role. Most likely, though, I would suspect that they are being eyed for either or both non-humanoid alien roles – Rocket Raccoon and/or Groot. If so, then it tips director James Gunn's hand that he is looking to make the characters more of the comic relief of the film.
While I understand the possible need to have a marquee-value name in order to bring audiences to a film based on a comic not really known outside of collectors' circles, I am wincing at the fact that it would have to be these two. While they are two popular comic actors, their overly broad, play-it-for-the-cheap-seats styles have never really tickled my funny bone. I suppose it would be fair to at least see how this pans out and what character or characters they might be in contention for before commenting further, but as for now I am not encouraged.