Among the many projects swirling around in development at Marvel Studios is one based on Marvel Comics's popular Black Panther superhero. With the studio's "Phase Two" releases leading up to The Avengers 2 in the summer of 2015 it doesn't look good for fans of the character who are hoping to see him up on the big screen any time soon. But might Marvel have plans to have the character appear in another of their superhero films before being spun off to his own solo adventure?
Perhaps there is a clue to the answer to that question to be found in a now redacted tweet and Facebook post that actor Morris Chestnut set out earlier today –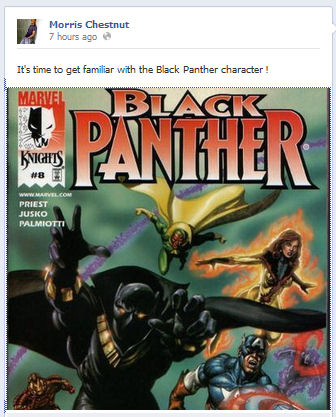 Now I know that the impulse is to think that Chestnut is doing research because he is either scheduled to go in and talk to the folks at Marvel about the part or already has and is in strong contention for the role. That was my first thought. And indeed, looking at his acting resume I can see him as a strong candidate for the part.
But let's not go off half-cocked though. Chestnut recently completed work on Kick Ass 2 and it is possible that Mark Millar, the film's producer and also the creator of the comic that it is based on, may have thought that Chestnut would be a good fit for the character for whenever Marvel got around to using him and suggested that he start boning up on him now.
If they were to bring Black Panther into the Marvel Cinematic Universe before 2016, the only place I see where he could be slotted in would be in The Avengers 2. But would that be the best place to introduce a new hero when you already have a number of superheroes in the cast?
Right now, let's classify this one as a rumor.