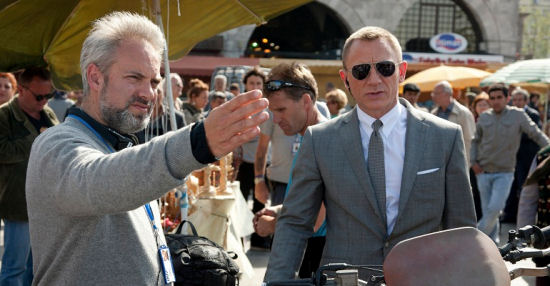 Every now and then we need to be reminded that just because it is reported that a creative is in negotiations with a studio for a project doesn't mean that they are fully committed yet. Today's reminder comes to us in the form of Same Mendes. Last night was the London premier of his stage adaptation of Charlie And The Chocolate Factory. As the director walked the red carpet he was invariably peppered with questions about his return to the James Bond franchise to direct the follow up to last year's blockbuster Skyfall.
Speaking with a number of outlets, Mendes gave variations on the same answer – that while talks with franchise producers Eon Productions but he wants to take a short break now that the musical is up and running before turning his attention to the Bond franchise.
While it is understandable that he would want a short vacation to recover from the exhausting work of mounting a stage musical, I have to suspect that Mendes is doing a bit of public negotiating. With Skyfall grossing $1.1 billion at the box office to become the highest-grossing installment of the franchise and the eighth-highest grossing film of all time, it is understandable that producers Michael Wilson and Barbara Broccoli would want to secure his services for the next few films. And Mendes knows that. It should be interesting to see how this all plays out.