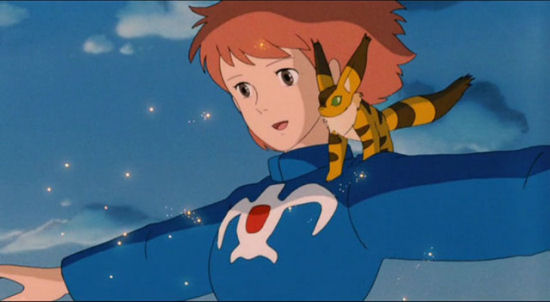 My first exposure to the work of genius animation director Hayao Miyazaki was back in the late 1980s when his 1984 film Nausicaä Of The Valley Of The Wind was released in truncated form on VHS in the US under the title Warriors Of The Wind. It created quite the impression and I knew from that point to keep an eye out for Miyazaki's name on other anime films.
Animating the film's God Warriors was Hideaki Anno, who would go on to create the highly influential Neon Genesis Evangelion. Since Nausicaa, Miyazaki and Anno have maintained a friendship that saw them working on various projects together, most recently with Anno contributing a voice to Miyazaki's latest film The Wind Rises.
During a recent appearance on the Japanese television show Ō-sama no Brunch to promote The Wind Rises, Miyazaki was asked about the possibility of returning to world of Nausicaa and its princess/warrior who fights to protect the peace of her isolated homeland from the ravages of a post-apocalyptic Earth. He answered that it is something that might happen with Anno directing.
No, I don't. I don't really feel like doing it, but Anno keeps on saying, 'I want to do it! I want to do it!,' so I tell him now that I've come to think lately that if he wanted to do it, it would be fine for him to do it.
So far it sounds as if the idea is nothing more than that, but it does sound like something that the two might like to actually get to work on at some point. Will they?
In the meantime, here's Miyazaki's complete appearance on the show, courtesy Anime News Network (via Bleeding Cool), which also includes some glimpses of The Wind Rises. Below that is